Nicki Cordi
Nicki Ann Cordi is a resident of Toms River, New Jersey. She is the owner/director of The Ultimate Scholar II, a community daycare center in Seaside Heights, New Jersey. After Hurricane Sandy, it took Cordi eight months to reopen, which, as of this interview, she has owned for 11 years.
Did Hurricane Irene affect how you prepared for Hurricane Sandy?
I really thought it was going to be nothing after preparing so much for Hurricane Irene we were really prepared. But when this storm was coming I had asked a few people and they didn't think that it would be as bad as it was. But I learned the hard way now minor or major I'm getting it all out.
Our last day [open before the storm] was on the 26th, which was the Friday. And I mean luckily it didn't hit the day of but we were already notified that it was coming. And I had a sign also on the desks for the parents to please evacuate. I've had a couple of my employees that did go out on that Sunday, who lived in the area, and went door to door to the families to get them out and to evacuate
After the storm my first reaction was to find the families. So I went to shelters and at one of the shelters I wasn't allowed to go in. I did find families that were outside and I got connected with them and then I came right here to Toms River High School East and I volunteered for two weeks and we cooked food and brought it in for everyone.
And I started collections for clothing and toys and other items for the children and their families. It took me a few weeks before I located each family. A majority were right here in the local shelters, so I got to see them everyday and talk to them and try and comfort them. At that point I didn't know what to expect with the business because we weren't allowed in town yet. So I didn't know if I would be able to reopen but when I talked to the children they just wanted to know if the stuff at the daycare was still okay, if their cots were there. I knew I had to open.
When were you able to finally see your business?
It was about two and a half or three weeks later they allowed us to go in. They were doing buses where you had to go in by bus but on our day it had changed and they opened it up to taking your own cars and you were allowed to bring a suitcase to get out any valuables or papers that you needed. We had four hours to stay and do what we had to do.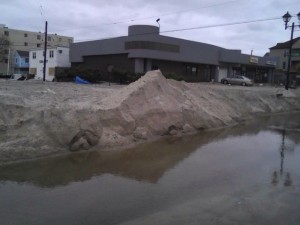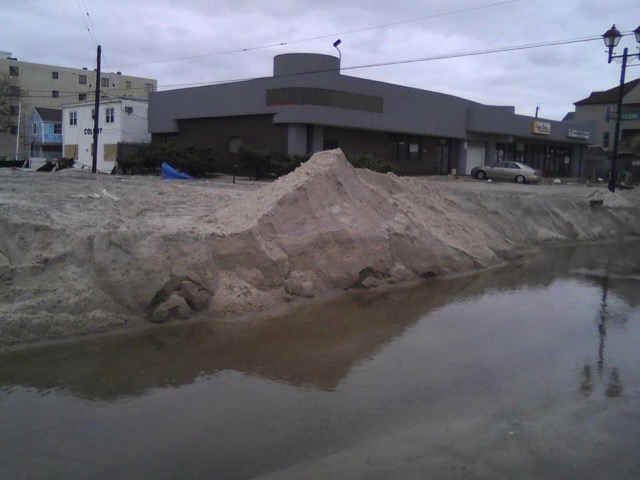 I thought maybe when I pulled up it'll be a little bit different cause we were a little elevated and I didn't think I would walk in to see muck. It was gross. It was horrible. Where we were located we were right where the bay met the bridge and [route] 35, we were in the worst street to be because I have pictures of mounds of sand, it was just all over. I wasn't expecting to see that much sand, it felt like we were on the beach. It was mounds and mounds and it was like a war zone.
The daycare was completely destroyed. Flooding, and muck, and sand, mildew, mold.
I immediately uncovered everything that was in there because they told use we can put it to the curb and whatever was ruined, which was everything, was ruined and destroyed. There was my desk that couldn't even open because there was so much muck and because we waited two and a half, three weeks the mold was just growing everywhere. So we had to throw out everything. When we cleaned the daycare center we took that all to the curb. Then they let us back in three days later and we kept going until curfew. So we ripped everything out.
Did you lose anything that was sentimental to you?
It was pictures, most of my pictures from over the years-Sentimental things. We lost computers. We lost the iPads the children were loving. But other than that we've lost all our paperwork and records of children but the main thing to me was my pictures. And other items like I said they can be replaced, they were old and now we have new.
Was the process of acquiring aid challenging?
I had insurance. I had liability insurance which didn't cover content or loss of business. But I did pay flood insurance through the landlord because I lease the building. It only covered the walls and electrical outlets that had to be replaced. Anything major that was for the landlord to replace. But other than that I had to replace everything.
Getting a CCO [Continued Certificate of Occupancy] was a big obstacle because [building codes] have changed. Now there had to be fire retardant rug carpeting. I didn't have that in the past, now that's a new law. So getting the fire inspections set up with the families all coming back in town and homes being inspected, it took a while for it to get inspected from them. Now I had to get air quality. I had to get the state health department to come in and inspect for mold. The landlord had the best possible mold remediation company come in and they did a excellent job. But it was obstacles like that, trying to get it ready and going through the process of not just lets throw stuff in there, paint and we're open. We faced [unique] obstacles because we are a child daycare center [so there's] more red tape, there's more inspection, they want to make sure everything is safe and I agree. And that was the only part really that would bring me down a few days but then I'd say, "You know what, I gotta keep going." The day we had our grand opening, it was amazing. It was great and so many came out to support us. I think that day was better than the first day I ever opened because now I knew the community and I want to be a part of that community.
I knew I wasn't getting any aid because they only had liability. I was depending on hopefully flood insurance for the coverage contents but that was another experience where I learned even though we had flood insurance it was not our business per-say. If the building collapsed it would've covered my business. It didn't collapse so I was left standing here and thinking FEMA was going to help. I registered immediately, then I found out FEMA doesn't help businesses.
It took awhile to regroup and know what direction I was going in. The first organization that listened and returned and replied was We Are Team Jersey. Cause a lot of organizations won't help businesses, they felt that families were assets, which is true, I understand. But to me I felt this wasn't a retail store, it was a community center that needed to be there for the children. So I felt, to me, it was something where I thought more aid would [be given to] help immediately and it [wasn't].
[The help we received] through organizations on Facebook was tremendous. If it wasn't for Facebook I would still be sitting there in debris. And then the Robin Hood Foundation did their relief concert and money came through along with Save The Children and from that point on [it was] just a blessing that they were the ones that really got us everything we needed.
Then [Save The Children has a program] called Get Ready Get Safe, and they've put us into the one year progress report. They want children to have backpacks prepared and they're teaching them how to be ready for it, it can happen at any time. The children still have fear when it rains, it's horrible, because they still think, "Is it going to flood again?" In their heads they don't understand but you try to keep them calm. We [also called in] Help & Healing, which is an organization that comes to the school to visit. I've gotten in touch with them to speak with the children and they get them ready with their emotions and it helps. We're trying to get the word out there, be prepared and everyone get together and be on the same page.
Those eight months I think I worked harder than eleven years and I'm still trying to give them normalcy. We had a zombie walk last week in Seaside. We went as zombies and they were phenomenal, they were great and they enjoyed the day. We carried a sign that said, "Not even Sandy can keep us down, The Ultimate Scholar II, back from the dead and after you." So they carried this sign and they really felt great. The one little girl said to me that this was her favorite day of her life. I mean she is nine years old, how can this be the best day of your life? But you know what from all of what they had and in a year this was probably the best day of our life. You're on the boardwalk, it was a beautiful day, we went on the beach, we took a picture. So then that little bit we lost we didn't care because we just went on you know.
You want positive. You don't want to hear people complaining. The storm did ruin my life, it did! Guess what we need to move on and even though I didn't lose on my home I did lose a home because I lost income and it's a hardship, so it still works. I wasn't in seasonal business, I'm in here all year so [I] lost for the whole year.
Do you think the storm brought the community together?
Absolutely. It makes everyone know that we're all there for each other. I haven't stopped. I volunteer 24/7 if I have too. I've been out to every project building dunes in Ortley, building playgrounds. We had to help as a community and I feel like paying it forward is the best. It's the best. We have good times, which is good because it helps us stay strong and if we break down now we talk about it. But it's horrible.
What advice can you give to mentally and emotionally prepare people for the possibility of another devastating storm?
Mentally I believe that's something you have to do on your own but with the help of knowing that someone else went through what you're going through or going to experience. We try to just keep it out there where it's okay, you're prepared now, you've lost something in the storm and now you know next time you're going to have that ready to go. So it helps to talk about it, it helps that the same families are coming back because everybody's experiencing the same feeling.
We just had Light Up New Jersey on the boardwalk last week and that was amazing because you were listening to last year's broadcast of the storm replays and then all of a sudden we're all there and we've come so far. I think the government is doing a great job but they're not in each community to see which certain things have to be done.
It's like be prepared, be aware, it can happen anywhere. We always thought, not here. Hurricane Katrina came and we shipped over items to them but never expecting it was going to hit us. In the name in itself it was true, it brought enough sand to all of us. But I mean we're all looking at it like a remodeling, which that's how I look at it and I tell the parents that we got a makeover, wasn't easy one but it's bigger, it's better, we have more items for the children we could have ever afforded.
Have you done anything within your business to prepare for a future storm?
Remodeling wise no, because it's just the walls and the carpet that's going to go no matter what.  But the preparedness, now I have pictures and stuff hanging up higher, making sure that the good stuff is up higher. It's always being aware. I guess if Sandy didn't hit, that little fire [on the boardwalk] that was starting probably would've said in my head, "Oh, they will get it out, the firemen are there, no big deal." But because of what happened that's always in the back of my mind. So you don't wait anymore where you would've been in the past now. You're more aware and it's all about awareness, it can happen anywhere.
Even if we did prepare for Sandy what I feel is there wasn't much we can do, it just destroyed us. It was just, yes you can take your good items and your personal belongings but other than that you lost everything and there was nothing to come back too. But other than that you just have to make sure that everything you love, cherish goes with you because you may not see it.
A year later, where are you now?
We only have ten children, and I hear that more families are getting back in. I hope that they get back into town and the daycare. As far as I'm concerned a year later I'm happy.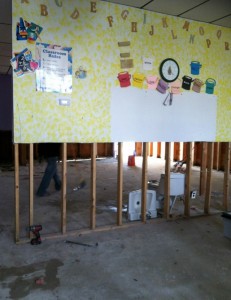 Like I said, my business is different. It is a business, but it's also meaningful to children. To me it's all about children and I'm just all for the children and you know that's where we're at. But I'm happy to be opened again, looking forward to building it again. It'll probably take another year to get to where we were but I just have to hold on and just stay positive.
The future is just to do what we were doing, get our numbers up because we do have bills. Nobody cares we have bills to pay so I don't have the financial set right now. I'm not financially set. I lost income you know and it's been a setback but as long as I keep going forward and building it, as long as it can pay the rent and I'm there for the kids that's all that matters because it's been a year already with no income. Losing income for a year is a hardship but I'm going to keep going forward and hopefully it'll be back to where it was and we can move on.
How have the children dealt with Sandy's aftermath?
I have one student who was affected more than others. He's been there six and a half years and he comes in and he knows when it's a crazy day like, here we go it's one of those days you don't want to be there. He's eight years old, maybe nine, but he loves it because he is connected so he reaches out to the other kids. He's like, "Don't worry I've been here I know the plan, I helped rebuild." So you get them involved.
The eleven year olds are good because they'll take the children and [say], "Lets do your homework, lets help with snack, it's raining but don't worry about it, it's not like the world floods we are okay, we are all here together."
The older kids do look out for them even walking to the school and it starts raining. The kids get panicky and they want to run and they're afraid and they hide and the older kids are in the front and the back of the line where they're helping to walk the children and they're always like, "Don't worry just stay focused, stay focused we're almost there." So they'll keep them going and meanwhile probably have some fear in them but they're not going to show it because they want to be the big brother [or] big sister. They're going to be there for them and it helps, it does.
They're there to help the kids and they're not lost in the shuffle because it's a smaller center. We are not big, fifteen children is very small compared to some that are eighty or a hundred. So we have a better handle on it where it is more of a community, they know the school and being the only daycare center we should be open, we have to be open. It's not should, we have no choice because they have nowhere to go.
You've mentioned how it is important to stay positive. Can you share what kept you positive throughout this entire experience?
Just being there for the kids. That's my positive. Just always being there for them. Just get ready and be aware. Just go forward and don't give up. Never think negative. Always think positive. It can be the worst scenario and still think there is a positive at the end of it. That sometimes I'll just go up to the beach and I have negative feeling about the beach, it's weird. I look at the ocean and go, "Why am I looking here? Why am I happy to see the sun rises, the sun sets?" This ruined everything. It ruined towns. It destroyed. But you look at it and you find peace, it's positive, it's life. This is what we go through and if there's more tragedy along the way it's like they say, it's how you react, you have choices in life.
Interviewed by Michael Scilla and William Wolf
Edited by Meghan O'Brien
Toms River, New Jersey
Recorded November 2, 2013