Crystal Tenore
Crystal Tenore lives in Ortley Beach, New Jersey, and since 2011 she has owned and operated Crystal's Beach Salon. She married just two days before Hurricane Sandy, and many of her wedding photos were taken in notable locations in Seaside Heights. On returning from her honeymoon, she saw the tremendous devastation to her business caused by eight feet of flooding. In her narrative, Crystal talks about the challenges she has faced in rebuilding her business.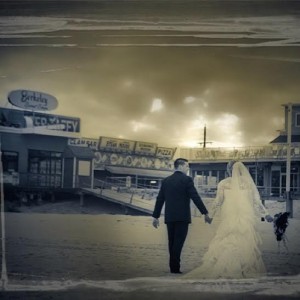 I actually got married two days before the storm. I didn't even know [it] was coming, I was so occupied with the wedding. I got married that Friday evening at Seaside Park at St. Catharine's and then my reception was up at Nanina's In the Park in Bellville. We actually got some of the last pictures taken in Seaside. We were on the carousel in some of the pictures. We had the Ferris wheel. It's pretty iconic to have those pictures because everything was gone after that. Maybe one day they'll be worth money [laughter].
So then from there we came home. That was the first I heard about it and all of the sudden some of the people who flew out here were trying to change their flights to get home early and beat the storm. And my husband ran over and boarded up the window and put some sand bags in front of the door but I don't know if it had to do with the fact that we had that trick of Irene the year before when nothing happened. Did a lot more preparing for that one. I took my computer. I took all my important paper work. I took all-important things. As to this one I didn't even bother with any of that so I lost all of that which was difficult to get through. So I don't know if it was because of Irene or cause I had a lot going on but unfortunately we didn't prepare very well – Not like it would have mattered.
Did you evacuate?
Yes. They always call for these things and nothing happens, [but] we always tend to evacuate even when they're minor. We always leave just because of the convenience of it. It's not hard, we have family over the bridge. Thank God we did.
We were actually able to go on our honeymoon. I had no clothes. We had no bathing suits. We had to go to the store and buy two weeks' worth of everything. That was a nice chunk of change to start the honeymoon off, but at least we were able to go.
When we were away was the first time [people] were allowed to come over on the busses. My mother and my aunt actually saw it first. They lied to me and told me they still weren't allowed over. We were out there with the thought of having hope that it was okay.
They walked in, and they said they just like dropped to their knees and they were hysterically crying. It was devastating.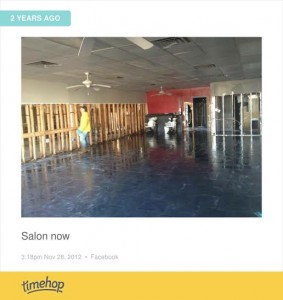 When I bought [the salon] in July of 2011, we gutted it and redid it. I didn't even get that loan paid off before I had to re-gut it and redo it again. There's only nine foot ceilings. We had almost eight feet of water. It was pretty much to the roof. Literally everything had to be replaced. All new walls all new furniture, computer, products, washer, dryer, new electric, new heat, new gas, or water tank, I mean. Everything. There wasn't anything really salvageable so it all had to go in the garbage. Massage chairs, those were real fun to throw away after a year.
If it wasn't for Toms River Township we would have been open probably in March. They held us back insanely with permits and turning back on the electric and they were so disorganized and so rude. We pay extremely, extremely high taxes and they haven't done a thing to take care of us. Our beaches haven't been replenished. We again don't have any dunes, which is the reason we got hit so hard. And they just really don't take care of what they need to take care of over here, at all. We shouldn't be paying what we're paying for what we're looking at. So our taxes should be lowered for that reason alone but… who are we?
Unfortunately I am in a strip mall. My building is very old and it's on a cement slab. I would have to get other people on board to lift. I don't have the option to lift or I probably would have done that by now because that's really the only thing you can do to save yourself. So as of right now I'm just there.
I did get part of that $50,000 small business grant. I did not get the full fifty but I got quite a bit. They worked you tooth and nail. It was like giving them my unborn children. It was a year and a half probably, maybe even longer, of "oh we lost your paper work," "oh we need your paper work again." Four times that happened. I probably went through about ten different representatives. That was a full time job. It took a lot to get that money, but we needed it so bad it was just what you had to do. Any little bit helped at that point. Unfortunately I didn't have flood insurance.
How is the town recovering?
You come into this town and it looks almost closed. For people who own businesses over here, it's awful. It's hard to continue staying open.
It's still a major struggle because I can't afford another mortgage. It's a lot, with my mortgage and taxes; it's insane! And then [revenue] coming in is a quarter of what it was before the storm, a huge major difference.
What big challenges have you faced in rebuilding?
Paying it off. Paying our bills monthly. With all the road construction it's keeping us slower. Not having everyone here with their homes still being down and lots empty. People aren't coming as often, they don't have the home to come to. It will be a few years before were back to normal. Every month is still a struggle. It's a lot of loans [and] a lot of credit card. A lot of credit card.
I do think a day will come when it will be better than every because there is a lot of young coming in. A lot of the people who were left these homes weren't able to afford to redo them so they sold them. So it's bringing in more families and a younger generation. And they're going to spend more money. I think that a lot of people had to choose between a summer home and an up north home and a lot of them are choosing down here because this is where they wanted to retire. So I think there will be a little bit more of that all year round income for the businesses out here. I just think it will be another two to three years until we see good results.
What do you think would happen if there was another storm?
That's a scary thing to think about… I mean I know in my situation, I don't even know if I'd bother. I think I'd just hand my property to someone at this point. I mean I can't keep going into more and more debt. If another storm happened people probably wouldn't buy over here. So my value for my property would be nothing anyway, that's a scary thing.
We're hoping it is that Once-In-A-Lifetime, Hundred-Year Storm.
What do you think are the lessons for the future that should be learned from sandy?
Dune replenishment. A lot of these other towns are putting in break walls and really doing a lot to prevent anything like sandy ever happening and destroying a town the way it destroyed us.
Just keep trucking along, one day it will get better.
One day we're going to see good results.
Interviewed by Allison Jones
Edited by Allison Jones
Ortley Beach, New Jersey
Recorded April 15, 2015