Brian and Jennifer Garofalo
Brian and Jennifer Garofalo live with their children in Toms River, New Jersey. Hurricane Sandy not only caused tremendous damage to their home, but it also destroyed their business, The Beach Bar, on the Seaside Heights Boardwalk. For the past two years, the Garofalos have struggled to put their lives back together. They abandoned their business in Seaside permanently after the Funtown Pier fire, and they are still in the process of rebuilding and lifting their home. In their narrative, the couple stresses the importance of family, perseverance, and maintaining hope.
What business did you own at the time of Hurricane Sandy?
We owned the food concession at The Beach Bar in Seaside Heights. We owned it for 6 years. I grew up in the restaurant business. It was just something I was comfortable with. That's why I got into it.
In the days before Hurricane Sandy how did you prepare your business?
No, we didn't prepare, actually. Hurricane Irene didn't affect us as much as we expected. So, we didn't think that Hurricane Sandy would be anything to worry about. We really didn't take much preparation besides making sure doors were closed and everything was secure.
We had prepared the boardwalk for Hurricane Irene. We boarded the entire building up with plywood, which was a little pricey. Then the storm didn't do as much damage as we expected. We couldn't get down there quick enough on the Sunday after to get all of the plywood off so we could get the boardwalk open again.
For Hurricane Irene, we evacuated our house here preparing for it and the water barely came over the top of the bulkhead. We got back home and we were relieved.
So when Hurricane Sandy was coming, we were like, well, it can't be that bad, because Hurricane Irene wasn't that bad. So at the boardwalk we just made sure the doors were secure and put everything away.
What do you remember when you saw your business for the first time after the hurricane?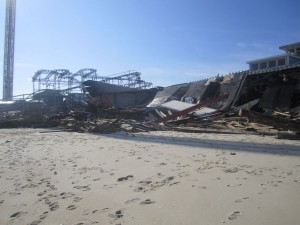 Shock.
I had seen a picture from a helicopter. A friend of mine had passed by in a helicopter and took a picture of the back of The Beach Bar and it was a little frightening to see what we saw. The entire back wall was blown out on the building. I don't know it was just shock.
It seemed like some of the pilings had been moved, the roof looked intact, but there was a lot of debris from the other buildings next door that had blown onto the roof. Part of the roof from next door did blow onto our roof. The floor was very wavy. The bathrooms were completely blown out. All of the toilets and the sinks were blown all the way into another room. The back bar was pushed into the front bar. It wasn't pretty.
How have you gone about the process of rebuilding? What were some of the biggest challenges you've faced?
Well, right after the storm our landlord [at the boardwalk] told us that he was going to rebuild the property. We were skeptical about whether or not it needed to be torn down or whether it could be fixed. He was insisting that it had to be torn down, but then promised us once it was torn down he was going to rebuild it. It wasn't until May 2013 that he informed us that he was tearing it down. A couple weeks later he informed us that he wasn't going to rebuild it at all. We still had years left on our lease.
It cost us a lot of money to take out all the equipment we had in the place. We're still not even sure if it works or if it doesn't work. I have four trailers sitting in Seaside with equipment in them.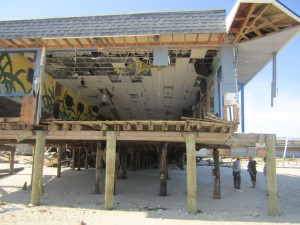 So after that happened, we knew we weren't going back to that spot obviously. We started talking to Funtown Pier and we were very close to securing a piece of the pier to put our business. Then in late September of 2013, the fire came and took the location that we were going to move into.
So the rebuilding's not going well because they're not doing anything down in Seaside right now.
There's litigation going on with our old landlord. We feel that they should've rebuilt the building. If they got insurance money they should've probably rebuilt it and the lease should be enforced. They feel that the lease was null and void once the hurricane came.
There was talk about Funtown Pier getting rebuilt and they're still talking about it but it seemed like nothing else was going to happen and that's when we found [Silver Bay Bagels].
I understand that your home was damaged during the storm. What kind of preparatory measures did you take prior to the storm?
As for the house, we took all of the lawn furniture away, we put everything away from outside. We put stuff on the tables inside the house, we brought a generator here just in case, we got gas. We packed a little bit.
We evacuated during the storm.
Jennifer:   We didn't take many things.  We secured stuff outside, we put a few things on tables, I did pack a little bit of stuff just in case. We had the generator with gas, flashlights, but no one on our street was leaving. I cooked for three days, then the power went out and that was the end of that. But, we didn't do much. Because we didn't think we were leaving.
Brian:   Like I said, Hurricane Irene… I don't want to say it was a disappointment but it didn't live up to what everyone thought it was gonna be. So we didn't think this was going to be that bad.
We have friends that live maybe three-quarters of a mile up the road, off of Silver Bay Road. And we knew that other people were coming there, friends that we know that live in another part of Toms River. So I knew they were there, I knew they were talking about getting food. We had nowhere to go, we just left. Friends of ours that were staying about five blocks down the road, told me that they were evacuating because the water was coming up high. So that's when I went outside and started looking. I realized the water maybe about half way up the backyard, and so I said 'we better start getting ready to go'.
The kids were in bed. My daughter was, I think she was sleeping. My son couldn't sleep because of the wind. She was only one at the time, he was four. So we started packing the car. By the time we did eventually leave, it was up to about my knees to get out. In about a half an hour it came up that fast.
What do you remember when you saw your house for the first time after the hurricane, when you were able to return?
I came the first day to try and get here and we couldn't get down Silver Bay Road. I remember they had the road closed, fire trucks there, there was a scuba team from over the bridge, over there. So I didn't get there that day.
The next day we came, we got down the street and the first thing I saw in the street was a deck on the street. It was blocking three-quarters of the street. We had to go around it. The deck was probably 40 feet long by maybe 12 foot wide and it was an intact deck. I passed by and I saw some people on the street and I'm like "Is that your deck?" and nobody could take claim of the deck. We don't even know whose it was. It was nobody's on the street here, so it floated in from elsewhere.
I sort of was talking to people as I was getting here. I didn't get to my to my house first because everyone kept telling me how much water they had in their house and people were calling me through the night telling me they were upstairs. A lot of people on the street stayed and they just went upstairs and the water was on the first floor of the house.
The house, I mean it was shocking. We had a fire in the garage. The neighbor a couple of houses down called me around 11:00 or 11:30 [at night]. He asked if we were out of the house, he says "You guys are safe?" I'm like "yes." He goes, "Your house was on fire." I'm like, "What do you mean on fire?" He's like, "well your garage went up. We called the fire department, they got stuck on Silver Bay Road. So me and the kid across the street and my son used buckets. We broke your garage door down and we doused the fire."
If he didn't put that fire out, with the 80 mile per hour winds, there's a good chance it would have jumped and probably took the whole block out. But he was able to get it out.
The garage was a total disaster. The fridge flipped over. The fire took the whole garage. It burned all of our electrical panels. The furnace and the hot water heater in the garage, they had burned.
In the house itself, the cabinets that we had were waterlogged — you could see that they were starting to buckle already. The floors weren't buckled right off the bat the first day. Once they started drying out, all these hardwood floors just started popping up. All three of the sliding doors wouldn't open, once the water started getting in there and everything drying. Um, I don't know, it was very shocking.
We left in a hurry. We didn't really prepare. So all of the kids' toys and everything were laying on the floor, everything they play with, all of their mats.
It wasn't clean water. There was like, I want to say, grease in it or something. But there was some kind of black in the water too that left a black layer all over everything that was here.
How have you gone about the process of rebuilding your home?
Well two days after the storm Jennifer's cousin brought his three workers with him. He's a landscaper. He came and he helped clean out the garage. He helped empty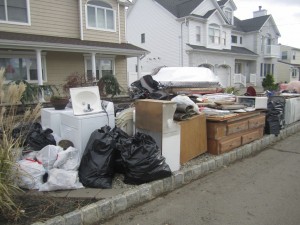 the house, he helped a lot.
I don't think I could've done it by myself. You're in shock because everything is happening but then you start thinking insurance, like you need to keep track of everything. One person was writing down every single little item, another person is taking a picture of every item, then you're trying to decide "does it go in that pile for garbage? Does it go in that pile to try and save?"
Once insurance came we were able to do that. We were able to start clearing the house and getting everything done. Then the whole talk started with lifting your house and you had to make a decision you know? Some people didn't raise their houses. There's still some that didn't get back in their houses yet because they didn't. We fixed our house up and now we're going to lift it. Some people waited to do the whole job at one shot but I don't know where you'd live for two years if you wait you know?
We had to get back home, the kids needed to go to school. So we fixed it up. We could've saved a lot more money if we would've waited to fix our house up and then lifted it but we really didn't have much of a choice.
Jennifer:   We did it because of the kids.
How did Hurricane Sandy impact you and your family? Can you tell me about any challenges you've faced since the hurricane?
Brian: Our lives literally turned around. We were on the boardwalk for 6 years. We borrowed money from family to get the boardwalk going and we had a 7-year payout in our heads that we wanted to do. We only got 6 years out of the business. If we would've gotten past year seven we would've really been doing okay.
We had a boat that sat in the backyard, we had our two cars and life was going good. Then after the storm we lost our boat, we lost our car, we lost the business, we lost the house.
We planned on going back to the boardwalk. I said, "let me concentrate on rebuilding the house. We'll be done there and be ready to go back to the boardwalk." Then when the landlord told us he wasn't going to rebuild the boardwalk, we worked on moving to Funtown Pier next door. We started getting architectural diagrams ready, everything ready for next door.
Neither one of us worked for about a year, a year and a half, maybe. We struggled. We had a lot of help from her family. It was stressful, very stressful. I mean, we didn't do a lot of things we were accustomed to doing like taking the kids places. We had to be careful about what we spent and what we did.
Jennifer:    We lost our business so our income was gone at that point. It was a very long year and a half. Losing our business on top of the house was just devastating. I think more than anything.
My daughter was too young to remember, thank goodness. My son definitely got traumatized that night. I mean we pulled him out of bed, literally pulled him out of bed and I think it did traumatize him. He still talks about it to this day. But he understands more about what happened. He understands now that we have to raise the house because of that.
Brian:   Additionally, we had people coming down the street trying to take stuff. I heard they caught somebody out in the lagoon over here in a little kayak. You know you're bringing your washer and dryer outside because they were full of water, so they're garbage but we didn't know whether we were supposed to keep it for insurance or not. You got people trying to take your washer because they want to scrap it. So you're telling them, "Don't touch anything here."
I'd say about four days after the storm, two days after we got back to our house, the police set up a checkpoint on Silver Bay Road. You weren't allowed to get down the street unless you showed you lived here or something. People's houses were all getting broken into. People were robbing things.
Once we got the house cleaned out, it was a big insurance nightmare.
The price of the permits right now, to lift this house is $4,500. I think that's outrageous. I understand there's some fees associated with the town and everything. Maybe they should have a flat $1,200 or $1,500 for anybody lifting their house. I think $4,500 is astronomical. The permit process is very long.
Jennifer:  We've been involved since October. We'll get the permits probably today or tomorrow. It's just frustrating.
What do you think has been the most frustrating in this process?
The grant process has been very, very frustrating.
We thought we were lucky because we were one of the first people to be accepted into the RREM [Rehabilitation, Reconstruction, Elevation, and Mitigation] program. We didn't even tell our neighbors. Everybody put in for the RREM grant and we were the only ones who got it on this street.
The process changed a million times through it. So it's just been a constant battle because you have the state running part of it and they assign you a company that oversees it and then you got to deal with that project manager. We're on our 4th project manager with that company and we're on our 2nd housing advisor with the state.
So trying to get everybody coordinated is just not a good thing. I guess nobody has ever been through this before, so I understand that things have to change. We're all learning as we go.  Every job is a completely different project for everybody because nobody knows they're changing the rules as they go. But I guess it's understandable because nobody has ever done this before.
Overall what are your views on the state and federal response? What experiences did you have with FEMA and insurance companies?
You called and you put in the flood claim, they said "Someone will be with you soon." It probably took at least a month for someone to get here to even look at the house.
We called Homeowner's Insurance. The first thing homeowner's said was, "How'd the fire start?" I said, "I don't know. We weren't there for the fire, I didn't see the fire start." "Well did it start because of the storm?" I said, "I don't know. I can't answer that question, I really don't know what started the fire." I'm like, well, what are you getting at?
When they first started talking to me they said, "Who are we gonna be dealing with?" I said "Well you're going to be dealing with me and my wife." We had secured a public adjustor, for the boardwalk, because we knew there was gonna be a problem with insurance there. I wasn't gonna use one for here because they charge 10 percent, and I really didn't want to lose 10 percent of the money because we could use every dollar we could get. Then he told me there's a chance there might not be a fire claim because it started because of the storm. I turned around and said "Well I'm gonna have my public adjustor call you back tomorrow." He goes, "I thought you told me you were handling the claim." I said, "Now I have a public adjustor. He'll be calling you." I don't think the homeowner's claim got settled for at least five months, maybe six, because they kept going back and forth with what was covered, what wasn't covered. They didn't want to cover anything that was below the water that was prone to flood. They were only covering above it.
FEMA was good with us. We didn't have any problems with FEMA. They had a person here right away. He took our case and got our case number going. It's a little tedious going through all of the paperwork they need. Sometimes we had to give them the paperwork two or three times, but they were okay with it.
The federal government? The federal government took a long time to pass that bill.
The governor, I think he made a good face of it during the storm. I think he covered a lot of stuff up. He walked that boardwalk a lot of times. I saw him on the boardwalk many of times outside our business even before the storm.
Could they have rebuilt faster? Yeah.
The RREM Project, which we're in now for raising the house, has been a total disaster. The program is different now. We were in the program right off of the bat and we get less money compared to people that are in it now. We got the grant but some people now are getting design services. We're in the process of complaining, why are they getting an extra $15,000 for design services? We don't get that money.
What do you think of the community's response in both Seaside Heights and Toms River?
After the storm it was good in both.
Seaside made us wait a little bit longer to let us back into town and get everything because they were a little more destroyed than Toms River.
Toms River, we didn't have any problems after the storm with them. They sent trucks around almost every day or two days to help clean up the debris and help get things done. Now I think the town is, I don't want to say lacking or hurting, but it is.
How do you think Hurricane Sandy has shaped Seaside and Toms River? Do you think the shore will ever fully recover?
How has it shaped it?
I think Seaside's got a long way to go. Seaside's always had a reputation. It's always had a mix of families that come from Lavallette and Ortley that have summer homes there and then it's always been a little party town. I mean Jersey Shore was in my business four days a week when they were on that boardwalk. The Situation used to work for The Beach Bar before he was on the show. So we were pretty close with them. So, we've seen the good and the bad.
Seaside's got a long way to go.
Seaside needs that south pier to get built; they need Funtown Pier back. The pier brings a lot of revenue into the town. I hear everybody talking, they go there and they just see nothing. And that's their perception, they don't see anything. Seaside's always going to have the mix of good and bad.
How's Toms River afterwards? It's got a long way to go to get rebuilt. I mean I'm in that bagel shop. It services this community back here which was hit bad from the storm. I mean almost everyday customers are coming in who's talking about "my house is in the air, my house is here, I'm still out of my house."
I guess it'll recover. I think it's going to take a long time.
Like I said, it's expensive now. Between the permit process and everything, we spent $20,000 just in designing, permits and engineers.
I think it'll rebuild but I think over the bridge is going to take a long time. A lot longer than Toms River.
What do you feel is the most important part about knowing your story?
Jennifer:   We were pretty down, you know? He was more positive in the beginning. I came here and I was just crying all the time. He was like, "You got to clean up, you got to get going."
We lost our income, our house, and we were displaced for seven months. But thank goodness for having family around to help. We just kept trucking through.
Brian:   You've got to keep your spirits up. You've got to keep going. You got to keep going for the kids. I don't think the kids ever saw us upset once. I mean every time that we brought them here to see something I always tried to be upbeat about it. Like what are you gonna do you know?
It's all about family. We had a lot of help from her family. They were part of the process of helping us keep positive and keep things going. But I think the most important thing is the you know is the kids. Yeah the kids are what keeps you going. I mean you still got a soccer game, you gotta go to the soccer game. Then when you see the kids out there on the field or playing little league, then that makes you realize what it's all about.
What do you think that people outside of the shore area don't understand about the hurricane and the rebuilding process?
I people from the outside, they think a lot of things are getting better. They are maybe getting better little by little, but not as quick as people think.
Jennifer:  They don't understand. People up in North Jersey, they watched the news and they didn't have a clue what was going on. I can't get to my house, you don't understand. Like we physically can't get there. We can't get to the boardwalk, you couldn't see for 2-3 days what was happening.
Brian:  I know that, right off of the bat, people got upset that FEMA was giving money to help people. If you had flood insurance, you got paid your insurance claim, then they helped you with some other stuff. We lost a baby carriage, we lost a stroller, we lost a car seat and they gave you reimbursements for that stuff. They tried to help. I don't know if it was a full reimbursement, but I remember they gave us some stuff.
I hear some people talking like, "Ah, they're just giving our money away." "That's my tax dollars." '"You guys are just getting money down there like it's nothing."
I remember when, after the fire in Seaside, the governor pledged 2.5 million dollars to Seaside and 2.5 million dollars to Seaside Park to help with the clean up. A lot of people were upset. "Those are our tax dollars."
Well, you know, the town, the state, and the government invest in a lot of things that bring money back. Seaside generates a lot of sales tax and a lot of money. It's an investment to get the town going again. I don't know if it worked because they haven't started building yet again. I think a lot of people who don't come down here don't see it. They don't grasp where all of this money is going and what it's going to do.
In the midst of such a difficult time, are there any positives that you can pull from your experience?
Jennifer:   The bagel shop. Definitely the bagel shop came out of this whole mess. It saved us.
We're closer to our neighbors now. Now I feel like everyone on the street is closer.
Brian:   As a family we have more time together now. We're doing a lot more. The bagel shop lends more time to do a lot of things. In the summer time on the boardwalk I couldn't go anywhere. I think the biggest positive is the family aspect of it.
Do you think there are any lessons for the future that can be learned from Hurricane Sandy?
Jennifer:    Maybe next time we will evacuate earlier.
We did what we could to be prepared, securing things, putting stuff high. I don't know if there was anything that could've been done to stop that type of damage we sustained. I don't think there was anything that could've been done to save the houses. No, the water came up that quickly.
Interviewed by Caileen Fitzpatrick
Assisted by Matthew Bender
Edited by Caileen Fitzpatrick
Toms River, New Jersey
Recorded April 21, 2015