William Gehlhaus
William Gehlhaus is co-owner of the Keansburg Pier Amusement Park, a popular summer tourist destination on the Bayshore. The Park suffered severe damage as a result of Hurricane Sandy. Storm surge waters flooded the pier, destroying a building and severely damaging numerous rides, games, and even a prized crinkle cut French Fry machine. In his narrative, William talks about the devastation to his business, the challenges he faced in the following months, and how he has managed to rebuild this prized local treasure.
How did the Hurricane affect you as a homeowner? Business owner?
As a homeowner we were without electricity for a week or so. As a business owner we got clobbered.
What business do you own?
The Keansburg Amusement Park. I've owned it with my brother, Hank since 1995.
Why did you get into this business, what about it appealed to you?
It was a family business! My grandfather started it, my father sold it in 1973, and we bought it back in 1995.
Have you been affected by any previous natural disasters? And how did they differ from Hurricane Sandy?
There have been at least three major hurricanes here, big time. And after the last hurricane, which was hurricane Donna, the Army Core of Engineers put in a dune system. That was around 1967, then all went well until Hurricane Irene, when we almost lost part of the dune, and the state dawdled on repairing it. They had a year to get it organized. They did not, until like a week before Hurricane Sandy when they started dumping sand where it had failed. But it did not hold, and at the place where it had previously almost failed with Hurricane Irene it failed. We were devastated in Hurricane Sandy.
What is your first memory of hearing about Hurricane Sandy?
About a week before it came. That's when all the alarms went off.
What expectations did you have for it?
We thought we would luck through, because we had the dune. We thought we would escape.
What preparations were made?
We took in as much stuff as we could take in, and we battened down the hatches as much as we could, but when you have four feet of water flowing through your property there is not a whole lot you can do.
What were you especially worried about when you realized the storm was going to hit so hard?
The dune. We would be okay if the dune had held. We would have been okay if the State had repaired the dune right after it was damaged from Hurricane Irene. So all this flooding, and expense, and repairs would have been unnecessary had the state maintained the dune, the way the state was supposed to maintain the dune.
Can you walk us through your experience as the Hurricane took place?
Well, I stayed home obviously. I got a call late at night. It looked like the dune was failing, and the town was here shoring up the section that was weak. During Irene that had worked, but it got beyond them and they had to evacuate. And then the dune failed. That was at nighttime. The next day I came down, but I couldn't get near the place. It was just mud and water, everything was still a mess. On day two we could survey the damage, and the water had receded and in fact on day two we started repairs.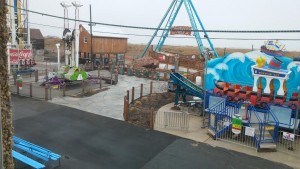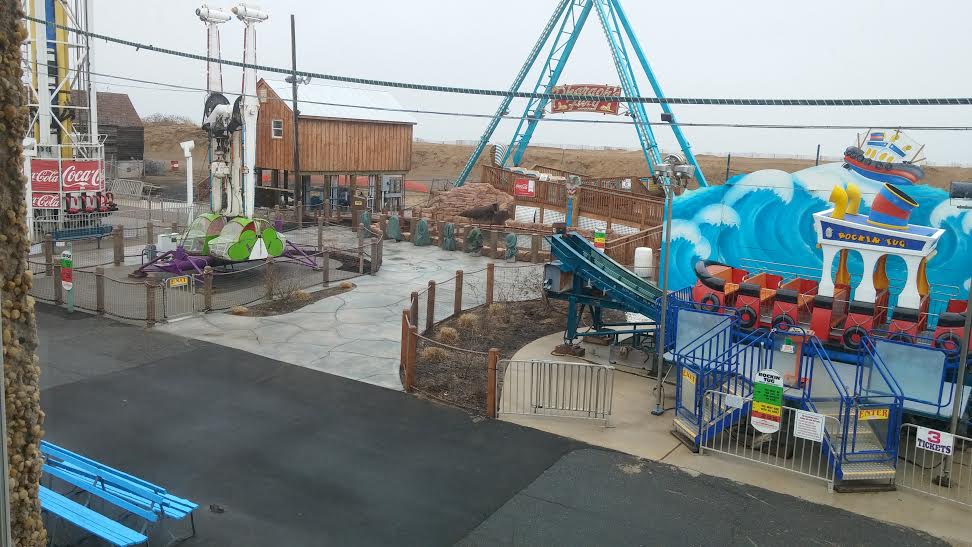 So when you first saw the amusement park what was your initial reaction? What were you most concerned about?
What a mess, there was debris all over. The place we had stored the various ride parts was the carousel building, which had been breached. The flood went right under the doors on one side, and the water blew open the doors on the other side. So we had ride parts half a mile away. So that was job one, to go reclaim all of our rides parts.
What was the greatest damage you sustained?
Well, there was no one issue. All the rides that we had, and we had forty rides, were affected in one fashion or another. All of the electrics had to be redone, the motors had to be redone, the buildings had three to four feet of water in them, so every stand and every operation had to be gutted. We had to start again.
How did you go about the process of rebuilding?
One step at a time. It didn't make any difference where we started, so we just picked a place and started clean up. We had to organize dumpsters, and equipment and manpower. We were fortunate in a sense. We had a really good contractor at the water park, because the summer before the storm we had purchased a new set of slides. So he was there taking out an old slide, and he had his equipment here and a team of guys. And instead of working over at the water park, they jumped over here so we now had additional equipment and manpower.
What other damage did you face?
We only lost one building in the entire debacle. It was three joints: a pizza stand, a French fry stand, and a fruit stand. That building just completely collapsed. The
pizza stand is now downstairs in this office building. The French Fry stand was taken over by Bob Space Racers because they wanted to get into the food business.
Sadly one of our signature things at the park is our homemade crinkle cut fries, and our machine was lost in the Hurricane. That machine hasn't been made in forty years. It's an ancient machine, and if it breaks you have to go and get the replacement parts specially made. It's quite an operation. You can't get these machines; a new machine is like $25,000. We can't afford to do that for French fries, so a Bob's Space Racer employee ended up having the machine. So the Crinkle Cut French Fries are back, one of our staples at Keansburg Amusement Park is back. Again we were lucky with that.
I should also say that our electricians knew the place, and they were here for months rewiring, getting everything done. They knew were all the wires were, they put in most of them, so it wasn't like they were starting from scratch. We had to buy an awful lot of circuit panels and circuit breakers, and then we had to turn our attention to the water park. The water park had water in it and damage done, so there was a lot of heavy-duty equipment that had to be replaced. The water park motors aren't just motors you get at Home Depot, these are serious, serious motors. Pulling one of these motors out, let alone the ten we had, was a lot of work, with shipping and fixing it.
What other challenges have you faced in rebuilding?
Well of course the State, the Department of Community Affairs. They are the ones who inspect and license all the rides. They knew we had undergone a lot of damage so they were looking at us with a microscope. Everything had to be perfect, so by the time everything was done, it was like the rides came right out of the factory, even if they 10 years old or 15 years old.
Did you have a timeline for reopening the Amusement Park? And if so, did you meet that timeline?
Yes, and no. The storm happened at the end of October, and our opening is normally Palm Sunday. We were open, limitedly, for Palm Sunday and also Easter.
Really you look back at it and you ask yourself how did we get this done? It was really a miracle, with a lot of luck and hard work. But as I said we started two days after and we worked every day in till Thanksgiving Day, that was our first day off. Our second day off was Christmas Day. It was 7 days a week until we had it up and running. We just didn't stop.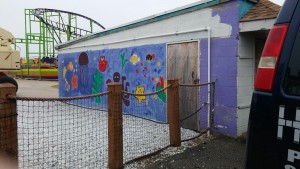 What is your view of the response from the Federal Government, the Governor, FEMA, and insurance companies?
The insurance companies are horrible. You get 10 cents to 15 cents on the Dollar, which was our experiences. As I told the Governor when he was here for our re-opening, everything would have been unnecessary had the State maintained the dune, the way they were supposed to maintain it. Then we wouldn't need to be having a grand reopening. The Federal government really hasn't done anything for us. We haven't seen a dime of federal or state government money. Everything has been on our backs, so I can certainly understand how homeowners, who didn't have much saved or pockets deep enough to rebuild, are still out of their homes.
What long-term effects do you think Sandy will have on the Amusement Park and on the Community?
Well on the Amusement Park side, we made lemonade out of lemons. We improved. We have seven new rides, we have landscaping and infrastructure improvement. We were planning to do this over a ten-year period, which we ended up doing in one. We put Humpty Dumpty back together again here.
Everywhere you looked it was a major catastrophe, but we were lucky in the sense that we were in working two days after the storm. In Seaside it was 4 to 5 months before they were even allowed in so we got right to work.
Plus psychologically, this is not our first rodeo. Hurricane Donna was a bad storm, but there was an even worse storm in 1944 for which my father and grandfather had to rebuild. My Father was by himself for Hurricane Donna, and he had to rebuild by himself. And as I said there have been previous storms, but in 1944 it was a different time. It was war time, you didn't have the forecasting abilities you had today. The way they knew that a Hurricane was coming, was when a Hurricane Flag went up at the post office the day before the storm. That is the notice they got. That is unbelievable. But that is true, they would not broadcast that on the air waves because it would give information to the enemy. So that is what they had to put up with. And when that storm happened there was no dune, and half the boardwalk that exists now was on pilings. And as a normal course the bay would flow underneath the stands, so when they came back after the storm of 44', this place looked like a toothpick factory explosion. It was a serious mess. So my thought through all of this, was that if they can do it, we can do it.
Have you noticed changes in Keansburg, of people not being to reopen or not come back?
Oh yes! I mean our business depends in a large part on the locals. Our first year reopen we didn't set any records that's for sure. People had bigger fish to fry. They were busy rebuilding their own homes, their own lives. And they still are not rebuilt. I mean three of our employees lost their homes. One, who is no longer an employee, had his knocked down and they bought another house. He lived in Union Beach. One is our maintenance guy at the water park, he lived in one of our houses, but it was a year in till we were able to get that home livable again. So he lived in a rental for a year, a year and two months actually. And the third guy had to raise his house, and he has been back for about 8 months.
Do you have any other stories or experiences associated with the storm that you would like to share?
Well, we had a lot of help from volunteer groups, doing clean up and helping repaint. We were also lucky when all is said and done, because we had a contractor on site. Not only a contractor, but a contractor who knew how rebuild things, and how to rebuild them tastefully and solidly. He had good judgment. You didn't have to oversee him. He had good taste and he knew how to do it, and do it right. And he happily had no other job that he had to go to, so he was here a solid 6 months.
So that was the lemonade part of it, is that the park is stronger and better than before the storm. When we first started, we only had a half a dozen rides going during the reopen. Then each week we would get back one or two more. So by the time July 4th came around, we had everything but maybe three or four rides, so we were in pretty good shape.
Another area, in which we were very lucky, was the games. We had 25 games, all of which we ran, and each game was destroyed. And some of the games had complicated electronics. Its not just clean up and start again, the electronics were destroyed from the salt water. The largest game maker in the world, Bob's Space Racers they are based in Florida. They do games for Universal Studios, also Six Flags and a couple other amusement parks. After the storm they decided they wanted to come here, so we turned over all of our game operations to them. And they invested, literally over a million dollars in games here. It took the burden off of us.
When all is said and done, we can't really cry over spilled milk. We have been fortunate that we have had all of these outside influences, that just happened to fall our way, just luck.
What do you think are any lessons that the community, or you as a business owner, have learned for the future?
The only lesson, it's an old lesson, is that you can't fight Mother Nature. When you get a freak storm you just have to live with it, it's the way life is. An old Japanese proverb, get knocked down 7 times, stand up 8.

Interviewed by Ashley Fuzak
Assisted by Grace Jeong
Edited by Ashley Fuzak
Keansburg, New Jersey
Recorded April 9, 2015