Jeremy Nevitt
Jeremy Nevitt is a recent graduate of The College of New Jersey who lives in Williamstown, New Jersey. An inland town in Gloucester County, Williamstown survived Hurricane Sandy for the most part unscathed. Jeremy's experience with the storm comes from his volunteer work at the College. As a student he had taken part in several volunteer trips to New Orleans to aid in those affected by Hurricane Katrina. Suddenly, he found himself doing the same kind of work, but in his home state. In his narrative, Jeremy compares and contrasts the damage of the storms as well as response and rebuilding efforts in the two states.
Where were you living at the time of Hurricane Sandy?
I was living in Williamstown, New Jersey, in Gloucester County, South Jersey. I had been living there for about 5 years.
Can you describe your experience during the storm?
During the storm I was a college student at the College of New Jersey. It was during our fall break that the storm hit, and they extended the fall break so that people would remain home. So we had an extra week off from classes. I went home, it was pretty stormy out. Being in South Jersey, my house was pretty lucky. We actually had the eye of the storm go through my town, so there was this weird point in the middle of the night when it just stopped raining. You could look up and see the moon. It was an eerie calm, it was quiet, no one was out talking or saying anything. We were very fortunate in that we didn't lose power at all, which was a blessing compared with many other homes in New Jersey. We had the news on the whole time, watching local Philly news stations and their live coverage in Atlantic City, watching the storm surge and the flooding. Then the next day we made sure everything was alright, and I drove over to my Grandmother's home, where she and my Aunt had stayed during the storm. I made sure that they were okay. My Aunt worked for the Atlantic City Press, and she came to my Dad's house because he had power and my Grandmother didn't. His house actually became the hub for the Atlantic City Press for putting out stories, because we had electric and Internet connection. It was very interesting seeing my dining room table become a makeshift newsroom for the Atlantic City Press. That was pretty much my experience with the storm.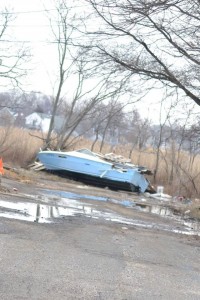 What devastation did you see driving around New Jersey, and were your expectations of damage met with what you saw on the news coverage during the storm to the aftermath?
It was pretty interesting, because I came from being at home in an area that still had power, and that hadn't been hit as hard. I mean the only thing that I recall from my area was that the storm had knocked all the fall foliage off the trees. The week before everything was nice and lush and the week after there wasn't anything on the trees. I began, I guess you would call it, exploring a little bit, I drove up to The College of New Jersey, and in areas that were normally very lit up, were not. There was a part of the high way when driving past the Delaware River, there is a marina near the river and the hill next to it is normally all lit up, I remember it was pitched black after Sandy. And I thought "Whoa that is weird," and realizing even though the storm had passed, people still didn't have power. After that, I explored down the shore and saw the homes there and how destroyed they were. And it was night and day, from where I lived to just a few miles away. You drive a half an hour towards the shore and everything was destroyed.
Being from a part of the state that was not as affected from Sandy, how were you able to relate or even know of the damage that the harder hit areas suffered?
Having friends who were directly affected definitely affected the way I viewed the storm. You almost have survivor's guilt. When you have your house in great shape, and you still have power, and my friends from school are posting that they don't have power, or that they aren't living in their homes because they were destroyed. It does hit home when it is a friend or someone you know that is directly affected.
You have a very interesting background in volunteer work concerning Hurricanes. Can you describe some of the volunteering that you had done before Hurricane Sandy?
Before Hurricane Sandy I had done Alternative Break Club trips with the College of New Jersey, working with Hurricane Katrina Relief down in New Orleans. Even though it had been 8 years since Hurricane Katrina had hit, there was still a lot of work to do. Something that directly relates the two storms for me, are the FEMA "X's". On many of the homes in New Orleans, there are "X's", because when they and searched the homes, they marked the homes they had already searched. They marked the date they searched the house, if they found any people who had passed during the storm, as well as any hazards they had found. Then directly going into Sandy, and seeing homes that had been destroyed and seeing the same "Xs" on homes in New Jersey, I still get choked up thinking about that…it hits home thinking back to that. That is really when it set in, after seeing Hurricane Relief, for one of the greater storms that people still talk about, Hurricane Katrina in New Orleans, seeing that mark on the houses down there and going back to Jersey and having it happen in your own backyard and seeing that devastation.
Can you describe the damage that you still see in New Orleans when you go down to volunteer?
Probably one of the biggest things you will see are the empty lots in the affected areas. Pretty much homes were destroyed from the storm, and there was nothing left but the foundation of the front steps, you'll see boarded up homes still with the FEMA markings on them, and these have sat there since 2005. You will also the recovery effort too, people still trying to come back, a lot of construction working happening. Even though now it has been 10 years since the storm. So it has been pretty interesting seeing how it has taken a decade and they are still visible signs of that destruction.
Can you describe some of the Volunteer work you have done in New Jersey in the relief effort for Sandy?
Some of the volunteer work we have done has been in Union Beach. A lot of it is clearing out lots of homes that were destroyed, and getting them ready and prepped for construction. So anything that was left over from the storm that needed to be cleared, we cleared. We took out someone's drive way, we broke up the foundation of a house. We cleared cinderblocks and any debris that was left over from demolition. We did a project working in Toms River, were a county park had nature trails leading out towards the bay. Those nature trails were destroyed because of the storm surge. There were hundred-year-old trees that had been destroyed in the storm because of salt-water intrusion into the fresh water climate. Being able to help that way and be able to preserve New Jersey wildlife was pretty interesting.
You mentioned the "X's" on the houses, and that creating a connection between New Orleans and New Jersey. Did you see similar challenges with rebuilding in the two places?
I think it is interesting, the contrast between the two. The storm happened for New Jersey in October. By summer time, we had commercials out saying "Stronger Than the Storm," that the Jersey Shore was back and we are just as good as ever. Compared to New Orleans where it has been ten years now, and it just hasn't been as quick.
Another one of the big connection was just people, maybe not knowing how to get flood insurance, or not having the insurance be what they expected, and it not covering what was needed. I remember seeing a sign, in New Jersey, that said that the insurance was only going to cover the costs of a refrigerator and that was it. Having their entire home destroyed, and only being able to replace a fridge, is incredible. And hearing stories in New Orleans it seems to be a problem there as well. When storms do occur it is so important to be able to get the money to rebuild.
The main difference, I would say, between the two was that there was better government response, I think, with Hurricane Sandy in New Jersey then with Hurricane Katrina in New Orleans. I think in New Jersey the government was pretty quickly to get people out of harm's way and prevent life loss, to set up shelters and help people. So I think that was one of the big differences between the two storms.
Have you as a volunteer seen frustration in New Orleans and New Jersey with rebuilding, in respect to the government, insurance, or contractors?
I know plenty of people in New Orleans have had problems presenting their insurance claims and getting their money that way. And huge problem is with contractor fraud. People came in and said they were going to do work, and after being on site and taking the payment they would take off with the money and never do the work. I haven't heard about as much contractor fraud in New Jersey compared to New Orleans, but I know it has happened. I think that there might be less instances from Hurricane Sandy then from Hurricane Katrina.
You have helped a lot of people from your trips to New Orleans, and your volunteering here in New Jersey. What inspired you to become a part of a club that does this type of work and dedicate so much time and effort into helping hurricane relief?
I was always into volunteer work. During high school I did volunteer work at local soup kitchens, helping out with the homeless. I think it has a lot to do with the way I was raised. The way I found out about the Alternative Break Club is a fun story. I was sitting in my freshman dorm room watching the Ellen DeGeneres Show and she did a profile on Brad Pitt and his Make It Right Houses. While they were filming the Alternative Break Club happened to be down doing volunteer work and ended up being on T.V. As I am sitting there watching the show, it hits me that I know one of those kids and that they are wearing The College of New Jersey Sweatshirts. I went up to my friend once we got back to school and asked her about the Ellen DeGeneres Show and she told me about the club. I was signed up for the next trip, and I have loved it ever since. I have loved meeting the homeowners you help and seeing their gratitude definitely draws you back down to New Orleans to want to help some more.

Interviewed by Ashley Fuzak
Assisted by Meghan O'Brien and Shannon Yeager
Edited by Ashley Fuzak
Ewing, New Jersey
Recorded May 8, 2015