Carolyn Olsen
Carolyn Olsen is a licensed social worker and currently works in hospice. Prior to Hurricane Sandy, she and her husband were living in Ocean Beach III in Toms River Township. The storm flooded their home with more than three feet of water, causing severe damage and destroying much of their personal possessions. About two years after the storm, she experienced loss again when her husband passed away. She now resides in Allentown, New Jersey, where she makes plans to rebuild her house on the shore.
Did the hurricane affect you as a homeowner?
Yes. The island was evacuated for Hurricane Irene and it also was evacuated for Hurricane Sandy. I believe the evacuation was supposed to be Sunday morning before the storm. As a hospice social worker, I had the island from Point Pleasant down to Seaside Park, so my job was to evacuate my patients in nursing homes and to try to get the families home. So I was doing that until Saturday night, and my husband said to me, "so what are we doing?" which I hadn't really thought about. We did what a lot of people did, we were kind of on the fence saying, well, we were fine for Hurricane Irene so we'll be fine for Hurricane Sandy. Well, Sunday night was pretty awful. I remember Monday morning, my husband was still sleeping, looking outside and seeing the bay. The water was literally being sucked out of Barnegat Bay and away from our house and I was watching the news, and the weatherman said that if you see a situation like this, it's going to come back twice as bad, and that's what happened, so my husband and I made the decision to evacuate. We packed up some things and did what a lot of people did, we packed medications and all for a couple days, thinking we'll come back. And when we left, I already brought my car to higher ground in Toms River, but we drove through Ortley Beach, and it was pretty frightening because it was already starting to flood. We stayed with cousins of my husband's for the first night until they lost power.
Where do those cousins live?
They lived in Toms River. They lived on high ground in Toms River, so we stayed with them. My husband had a lot of comorbidities, and one of them was he had to sleep with a C-pap at night. It's a machine that goes over your face and blows air in to your lungs, so if you have sleep apnea, it helps you to sleep, whereas you're not waking up when your heart stops. So we stayed with them the first night, and then we could not stay with them any longer because they had no power. So we evacuated to my son up in Cranford, and we stayed with them. And from there, we realized we wouldn't be able to go back for a few days. At that point, I contacted FEMA for the first time.
We had to go out and buy clothing. I went back to work on Friday, the storm was on Tuesday and we had a couple of days where it was just crazy. We realized that we should've brought more of everything, so we had to kind of reinvent ourselves. We had to buy new clothing as I said. My husband had to wear special shoes. I work for a health care company and they were very helpful in helping me get parts to my husband's C-pap machine. The pharmacies at the hospitals were taking prescriptions and filling them even though it wasn't time yet, so we were able to get his medications and my medications. We had our vital information, fortunately. After Hurricane Irene, my husband had put it into a safety deposit box in Brick, and that wasn't flooded, so we were lucky in that we didn't have to, unlike other people, completely reinvent ourselves, get a social security, get your birth certificates, things like that, we had that safely stored away, so we were lucky.
I commuted from Cranford down to my job for a week. I guess a good thing about being a social worker is I kind of went back to my Maslow's Hierarchy of Needs and was thinking about, so what do we do in order to survive? We needed food, we had that, we needed clothing, we were able to get that, we needed shelter. Our options through FEMA were to go to apartments and to be moved around whenever they could accommodate us, because we did need electricity, so we made the decision to look for an apartment. So my daughter had friends who had a friend who was a teacher, and she had lived here for several years, so we wound up coming here [apartment in Allentown, New Jersey] and they had a vacancy, so we've been here since December 1st, 2012. I will say a lot longer than I expected.
Why did you choose to move to Ocean Beach III?
When we moved up here [from the Washington, D.C. area] to be with my mother, we made the decision. We lived up in Cranford near my sister where my mother was staying, and we liked Lavallette. So we bought a home on President, which was right near the Crab's Claw in Lavallette. It was right on the beach block. It was a nice little home. It's still standing, I may say. It was built in 1893, and it's still standing. But, we couldn't live there. We were thinking in terms of retiring there, because my husband with his illness had a lot of difficulty with stairs, so we looked around for an alternate home, and this home that we bought was a ranch. It was a one level so that was ideal for us. There were two bathrooms and four bedrooms, so our family could come stay with us, and a beautiful view of the water, and we had access to the beach, and he liked fishing, so it was ideal. So we made the decision to move there.
What did you like most about living in that community?
It was a beautiful area. Where we were, it was on the other side on the bay side so that we didn't get the impact of the storm that people on the ocean may have gotten. And we had beach passes for our family. It was very quiet after Labor Day and then, being where we were, there were renters, but it was nothing like in the ocean side in between, so we didn't have as many renters. So you felt like you were in another world.
We were right on Barnegat Bay, so we were on the bay side. We were right on the water. I guess to walk it would take about ten minutes from the bay shoreline to the ocean shoreline.
In the days before Sandy, what preparations did you make for the storm?
We put our vital documents into storage and we had packed bags with some clothes. The problem was that we did not pack anticipating that we would not be able to return to the island. There was the National Guard. They had lock down. The roads were devastated so you couldn't get safely back there. We waited for about three weeks and then the only way you could get onto the island was to report to Toms River Fisher Boulevard, and then we had to give them our licenses and then we boarded a bus and there was a policeman or a detective on each bus. They took us to our neighborhoods. We had to walk to the road to our home. We had an hour to take everything that was important to us, with us, which, by after three weeks, I don't need to tell you. It was awful what we saw. And then we got back to the bus and drove back to our car on the mainland.
Overall, what damage did you sustain?
We had about three feet of water, so we lost all of our belongings. The nice thing about it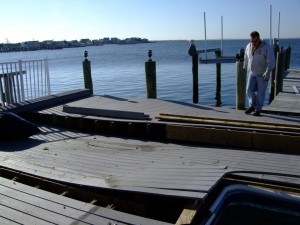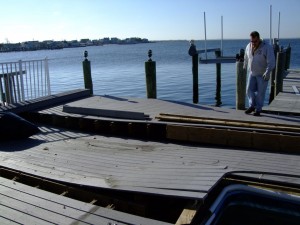 was that it was a ranch. Everything was on one level. The bad thing about is was that it was a ranch and everything was on one level. We did find our family was wonderful in that family and friends helped us empty everything out of the house. The house had obviously mold. We got things. I have glassware and things that were from the waist up. We lost about everything– documents, and things that we really had to look at. We had to make a decision whether or not to keep them. I mean anything fabric that could acquire mold we had to get rid of. Fortunately to another thing is we were empty nesters, my husband and I, so the things that people really treasure, our family photos, it keeps coming back in conversations. I divided all of the pictures that I had from our moves in to three boxes and gave each of my children their pictures.
We had toiletries and foodstuffs and things like that. All of our furniture was gone. I do have a couple of lamps that made it. So basically we lost everything. But what we did gain was the knowledge that we were surrounded by love. We had a lot of support. Everybody pitched in. We bought the sofa and this chair, other things that we see around here may be circa 1970 if you look at it, but it was given to us by friends of our daughter. We got bedclothes. We got a table. We had got the kitchen table, a friend of mine had donated that little desk in the corner that has been great. It has been wonderful. People have been very kind. And my company, there was a grant that I was eligible for, so we got some money to help to defray the cost of trying to recreate our lives.
Did the house have to be gutted?
I have to tell you a story, and I guess it's how you deal with life. And I think you just assume that the path of least resistance. We had an adjustor come and take a look at the house, and he kind of minimized the damage. And then we had a pool in the backyard on the deck and we had gates around it. Before we left, my husband had told me to make sure the gates were closed. So I went to shut the gate on one side of the house and I couldn't get the door closed. It kept hitting the side of the house. And I kept looking at it and thinking, "wow, this fence must have been moved." When the engineer came, the one that we hired, he came and said, "the house moved, that's why you can't get the gate closed." The house had shifted off of its foundation. The foundation itself had been cracked, so we felt that the cost of repairing the home and possibly having the mold come back was as much if not more than to replace it, so we just made the decision to demolish it.
Do you think the National Weather Service did a good job in preparing people for the storm?
I do think they did. I remember hearing on the news to not minimize the impact of this storm. It was frightening, and I got the impression that they were right on the money. They were urging people to evacuate. So in terms of the National Weather Service, I think they did a fine job. The sad thing was we had to evacuate the island. The people across on the mainland, Toms River, people who had lagoons, did not. I had a patient who was in Lavallette. I evacuated her. She wanted to go to her daughter's in Toms River. She lived on a lagoon. This is a woman with dementia and a lot of pain. She went to her daughter's, and they were flooded, and she had to be evacuated by boat, and then brought to the hospital. I felt horrible about that. I felt horrible. The people on the mainland just didn't anticipate.
I had a colleague in the hospital who lives right off the Mantoloking Bridge, in Brick, so on the other side, the land side. She had her home. One of the homes from Mantoloking came across the inlet and landed on her home. So she and I are both kind of in the same boat right now. She's in the process of rebuilding her home. And the disadvantage that she had that I didn't have was I could live here because I didn't have children who had to be in the school system, so she wound up moving about four times with her daughter. And every time they needed something, they had to go to storage. We lost most of our stuff, so we didn't have that problem, but we have things in different people's basements and garages.
Are there any stories that you would like to share about your work before the storm as a social worker?
A big job that I had was preparing to evacuate my patients. They couldn't even go to the hospitals. They were deterred from the hospital if they didn't require acute care. They had to go to shelters or to nursing homes. My bereavement coordinator at Hospice, she's also a Presbyterian minister and her husband is the Presbyterian minister for a church in Point Pleasant. And she predicted that we would see a lot of deaths post- Sandy for about two years. She says, "you're gonna see quite a few. You're gonna see people dying." And I'd had several elderly gentlemen who had problems like my husband, and this just exacerbated everything. There was this one little street in Bay Head, and these women all knew each other, and they called it 'the neighborhood of sick husbands', and I had about three of them pass away after going through the stress of trying to rebuild. And they wound up restoring, but still, they had the headache of these big beautiful homes that were going to be raised. The the cost was prohibited. Many, many people lost their homes, and that was very sad, and I'm still seeing it. I never dreamed seeing it in my patients. I had some ah-ha moments.
I knew it was devastating for my husband. I guess you push things down in order to do your job. You compartmentalize, that there were signs that I was seeing in my husband that I just kinda said okay, we're gonna get past this, and I didn't, and he was another victim of Hurricane Sandy, and that was a sucker punch that I didn't expect. But he had asked me to rebuild and sell it. We had done everything for the REM grant we are getting, a grant to help us rebuild, and with all the work he put into it, he asked me to rebuild it. "If I die," he said, because he knew something was happening, he said, "if something happens to me, I want you to rebuild the house and then I want you to sell it," so that's kind of what we're going through now.
My son is helping me with the forms and contacting people. He does this as a literary agent. He's always going over contracts, so he's been wonderful, so that I can work. My daughter has been so supportive. She's been there for me. She doesn't like me to be alone. I'm learning how to be alone after 37 years. I'm also a twin, so I've never been alone. I'm working, so that helps, and I think just being normal, trying to get some normal. And I think if I didn't have my job, it would be a lot harder. But working in Hospice, I did see a lot, and because I was in that highly impacted area, I saw my patients, I lost my patients, patients who died, patients who had to, in the end of their life wanted to end their life where they felt comfortable, and they were just uprooted, and they never came home. They had to go live with children up in northern New Jersey. It was just very devastating for them.
How long after the storm did your husband pass away?
He died in August of last year. And without getting too personal, he had heart issues. My husband, he had a sense of humor. I'd say to him, "okay, I'm going to work, I'll be at the hospital and I'll be home in X amount of time, and he'd say, "well, I'm dialing for dollars." To know that these grants were coming up, its called a REM grant, that was the big one. To you, among thousands and thousands of other people are on the phone trying to get in touch with someone to get even the application. So my husband spent hours on the phone calling, and there was also another grant called a SHRAP grant, and it was a grant where you were given a certain amount of money to help you. Because right now, I'm still paying my rent, my mortgage, my real estate taxes, and utilities, for a house that's not there. I'm paying for a second home, and this is not a vacation home, folks, so the cost has been pretty prohibitive.
So this grant came through, and my husband applied for it, and when he went to the office initially, they said, "well you don't meet the criteria, we're not gonna be able to help you with anything." And it's very demeaning when you have someone coming from the life we built to asking for help and being told you don't meet criteria. And the sad thing was he had gotten everything ready. He went for a pace maker and then he died of a massive heart attack a couple of days after he had the surgery. So after the funeral his best friend and I went and brought the application for the REM grant, and when the case manager looked over the application, he called me and said, "you meet criteria for the full amount," and I said, "we're only gonna get a little bit of help for anything so we'll take anything," and we met criteria for everything, and I thought to myself, "I wish my husband had known because he gone through so much."
You say the insurance companies were not very helpful to you?
Because it was a super storm, it wasn't wind damage so to speak. Our homeowner's insurance gave us a total of $350. They gave us basically the money for spackle. And then we had $250,000 for flood insurance. And we got about $88,000. We had to rebuild a home with that. It was hard enough having them come in and go through your house, and we also had FEMA come through, but to have them come back and say, "you don't have to rebuild, you can just restore your house," we had to go through an appeal process. And we hired our own engineer who came in and he came in at quite a bit more. We also hired someone to go through the appeal process through the insurance, so we had to get all the documentation together, and they weren't able to do anything unless we hired an attorney. And we just said, enough is enough. We'll just kind of let it go. But now FEMA is reopening a lot of their cases, so they're looking back and saying they had a surplus of money and I think our adjuster, well, I can't say, but I think that we should've gotten a lot more than we did.
How did you feel after you were given such a small sum of money to rebuild your home?
My husband died in August and I just was busy trying to change things over to my name, deal with the loss, the state stuff. I've been robbed of my grieving time. I guess in a way, he's given me a gift in that he's given me something to do, so I'm grieving instrumentally. An instrumental griever is someone who does things for somebody. It's a person who can't maybe give hands-on care, but they can do things to help maybe pay bills.
How do you think the federal government responded after the storm?
When I called up FEMA, I got the number right away from them. They seemed very compassionate. My husband met a FEMA worker, and they wound up meeting at a McDonald's parking lot and talking because they couldn't get on the island. I think we did get some help, from the government, to help with bills and all, but in terms of FEMA, with the flood insurance I was very disappointed. You can't sue the government. You can't sue FEMA. You can sue your insurance company, but you can't sue FEMA. I'm thinking of the New Jersey government, not so much the federal government, but it's the appropriation of funding went a lot to businesses, which was important to bring back the tourists, because the tourist trade is very important to the Jersey Shore, but I think some of the money could have been diverted more to homeowners. I mean, look at Seaside Park. They got money back to help rebuild and then there was a fire. I just feel that we probably could have gotten some more help than we did. I think to be constantly making phone calls and to get the help we needed, you felt almost like a second-class citizen. It's been very humbling going through this.
How do you think the governor responded?
When Barbara Buono and Governor Christie had a debate before the election, my husband and I were sitting and watching the debate. Barbara Buono was asking him about his response to Hurricane Sandy. He was very pro-business and, as I said, a lot of funding went a lot to businesses. But, his response to Barbara Buono was 95 percent of the people who were out of the homes are back in their homes. My husband and I were sitting in our apartment in Allentown, New Jersey and looking at the TV and knowing many people who are not back in their homes. We were just amazed. So I think he was compassionate, but I also think he could've done more for the homeowners than he did.
Do you think that your social work background helped you cope with the storm?
Yes. It helped me because I focused on the important things initially. Looking at the entire picture of the house was one thing. I felt very responsible for getting my husband into a safe environment, and I thought of him as my right hand man, but it was not the same as evacuating people. He was still ambulatory and all, but I felt a responsibility to get him away from the island, to get him into a home so that we can start to have a little bit of normal while we were trying to put our lives back together again.
Has your experience changed your outlook on religion?
When we weren't sure what we were going to do, whether we were gonna rebuild or restore, we applied through the Presbyterian Church in Point Pleasant, which has work groups and people come from all over. I don't know if anyone here is Protestant, but they do this volunteer work and it's just what they do. They volunteer a certain amount of time and it's part of their religion. We had work groups come in and they tore the wallboard down. They did remediation. They pulled things out, they ripped out our deck, I mean it was around seven degrees, and there was no heat in the house, and the house was damp. They came and they helped us out. Well, my church in Bay Head, they sent me envelopes. I didn't get any help from them.
Catholic charities told me they're running out of money, and what they were requiring of me was bank statements. They went through my budget for the month and I was told that I had a couple extra hundred dollars a month and I didn't meet the criteria, and I forgot to tell them that I paid $11,000 in real estate taxes last year, which brings it up quite a bit. But they also said they wanted all of my personal information on my husband's retirement benefits, any IRA's, anything like that. And I made the decision at that point that I'm not 35 years old and I have 30 years to accumulate for my retirement. I am 62, and I'm going to need that money sooner than later for retirement and to be able to live, so I made the decision not to send anymore documentation other than to talk about my current salary and my living situation. So I got nothing from Catholic charities.
I'm kind of jaded. I haven't been going to church and I thought part of it was my husband couldn't attend with me, but I'm beginning to think that I'm a little jaded toward the support that I did not receive from my church. They found me, they were sending me envelopes, they were asking me for the Bishop's Annual Appeal for the propagation of the faith. I'm getting all of these requests for donations, and I also got a request for donations because the church has been so impacted in the Hurricane Sandy area, and so far I really have not gotten any help from my church, so it's been a little disappointing. I was raised Catholic, I went to a Catholic elementary school, but the support I've received was from the Protestant church.
Do you still plan to retire in Ocean County?
I have not had a chance to grieve. My husband has given me a project and I still feel like he's telling me what I should be doing. He was very organized. He left things in places where I could find them. He kind of anticipated that there would be a flood insurance thing coming up with the lawsuits with FEMA. He left things there. He put everything in order so that if he didn't make it I could still go ahead and find things. So I'm finding things and I'm still going through the process o rebuilding. I don't have the interest in it that he did. I don't give a damn what my faucets are going to look like. I mean, I'm going to have to get an interest in them now. I'm going to have to go to Lowes. But once the house is rebuilt, I know that I will be living in Ocean County until I retire or close to it because I don't know if I want to be traveling an hour each way.
I have to reinvent myself in order to keep my sanity. I think in order to get the job done, I am partializing, and I think the social work is helping me tremendously. I like the psych part of it, and that's why I went to Fordham and I'm glad I did. I am partializing. I'm really focusing on rebuilding the house. I have no idea what the next step is for me. I know I'm going to continue working. That's my normal that I've had. My family has been wonderful and supportive. But, again, I don't know where I'm going to wind up after I retire. If my health keeps up and I can maintain my health, I mean, this has been very stressful. I tend to internalize things, so what happens is I'll go along, and then all of a sudden, I'll just pass out. That's just the way I'm dealing with it. Literally, I get lightheaded and my doctor said, "just find a floor, just sit down." So, this is very, very stressful.
I think monetarily I'll be okay, but I just don't know what I want to do with the rest of my life, because even just working in the area was about trying to maintain a lifestyle with my husband. So I'm going to have to go on after the house is built, think about what I'm going to do for me and where I want to be. I want to be near my family, so, my son's up in Cranford, my daughter's in Titusville on the Delaware and my other daughter's in North Carolina. New Jersey is a very expensive state to live in, but I don't know. I'm thinking in terms of, do I want to be a homeowner, and every time something breaks, it's up to me to fix it, now that I'm living alone? So that's one thing I'm thinking about, but, again, I don't know what the next step's going to be. But I'm not worried about it. I'll figure it out as we move along, because there's a lot of moving parts right now, but right now I'm just focusing on getting my house built.
Interviewed by Shannon Yeager
Assisted by Meghan O'Brien and Allison Jones
Edited by Shannon Yeager
Allentown, New Jersey
Recorded March 29, 2015
Photo by Carolyn Olsen