Jane Marion
Jane Marion was born in 1957 and has spent most of her life living along the Jersey Shore. For nearly thirty years, she has been working as an Emergency Medical Technician with the Dover Brick Beach First Aid Squad. Just before Hurricane Sandy, she evacuated her home in Monterey Beach, Toms River. As a first responder, she was one of the first to witness the devastation of the storm. In her narrative, she speaks to the work of first responders and the challenges involved with organizing evacuation plans.
What is the name of the organization that you're involved with?
I've been a member of Dover Brick Beach First Aid for almost thirty years. Every time we've had a storm, hurricane watches or warnings, evacuations, winter storms, nor'easters, whatever we've had here, we've used [Normandy Beach] as a drop-off point and as an intermediate shelter. We work with the Office of Emergency Management in Toms River Township. We serve two communities. Half of our area is in Toms River Township and half is in Brick Township. We're all concerned with public safety, so we've worked on evacuations numerous times and numerous emergencies of all different kinds.
How many responders do you work with in your First Aid Squad?
The saddest outcome of Hurricane Sandy for us is that we were a small group to begin with, and we lost members who haven't come back. At the moment, there are two of us to run the ambulance. It's very bleak for us right now. We're hoping that it'll turn around, but I think that in the end, Hurricane Sandy may do us in.
We had five going in, two coming out. We were a very, very small group, but we were managing. We've been severely impacted. It's very sad. The First Aid Squad has been here and serving the community for many, many years, since 1950 or 1951. We're struggling so badly now. We may end up being a casualty of Hurricane Sandy, which I would hate to see.
In the days before Sandy, what preparations did you make?
Everybody was focused on trying to get people to evacuate. That overtook all of our personal concerns. And it's amazing. We had a hurricane scare almost a year to the day in August of 2011. We had a hurricane scare, and we did all kinds of things then. We moved our cars, we moved the ambulances, we did all these things, moved them over to high ground on the mainland so they would be safe. This one was so bad, and we were all so concerned about it that we were really focused on trying to get people out of here. Consequently, didn't make a lot of personal preparations. In the days before the storm, we had several meetings with the mayor and the Office of Emergency Management in Toms River Township, making plans, discussing shelters where we were going to move people, where we were going to move animals, just the logistics of getting people out of harm's way. So we were very, very focused on that. We worked very closely with Toms River Township to ensure that everyone here would be safe. So that was really what consumed those days, and up until Sunday, it was a mandatory evacuation. We had changed our sign to read 'evacuate, mandatory evacuation, leave now.' We were driving around, going up the streets with ambulances, announcing it, trying to encourage people to leave. They were supposed to have left I think by Sunday morning. I spent a good portion of mid-afternoon on Sunday still going around because there were lots and lots of people here, and they weren't moving. It was concerning me.
We were primarily involved in organizing for the evacuation. We were trying to get in touch with all of our handicapped and disabled elderly that we had for years collected and asked people to let us know if they would have trouble evacuating and to give us their names and their phone numbers so that we could make direct contact and say, "do you need help getting off? What do you need? Are you going?" That takes a long time because we had 225 names. For a small group of us, there were a lot of people to contact in the couple of days before the storm and not a lot of time. So that was very time consuming.
The planning meetings and the updates from the township were keeping us in the loop as things were changing, and where the evacuation sights were going to be, and what was going to happen, who would be where, what they planned, so that's what we led up to. I worked for a company that runs senior living houses and one is located in Ocean City and the other is located in Ocean Grove, so I was working through this, too, because this is a volunteer organization and they were very concerned they were going to be evacuating those two locations of all the people who lived there. I had actually bought a portable phone charger so I could charge that up so I could keep my phone charged. I was hoping I would be one of the people taking phone calls concerning the people from the senior living facilities and it turned out things were so bad here that I had to not do that. Everyone involved in public safety was really gearing up and preparing and trying to keep people safe. That's always been our mandate and that's why I think people think we cry wolf. We always want to be sure that we can get people out. And it works to some extent. I mean, we did really well in this area in spite of all the rumors. There's always crazy rumors about 'there were hundreds of bodies over in this location' or 'hundreds of bodies over in that location.' And there weren't. There were just crazy rumors that would go around the town. There was never any truth to that.
Did you remain in your house during Sandy, or did you go somewhere else?
No, absolutely not. Being so involved with the Office of Emergency Management, we understood the severity of what was happening, and over the years, as I have been doing this for a very long time. We've always worried about this kind of a situation. This was our worst-case scenario and something that we always worried about. We were aware that 100-mile per hour winds would blow the roofs off of houses. You can't really safely stay in an area like that, which is why we were sincerely encouraging people to leave because we didn't want them to be in harm's way. I had initially planned to try to ride out the storm here so that as soon as the weather cleared, we could get out and rescue. And that was our concern. I worked with the office of emergency management very closely, and we were in constant communication.
Everybody else was pretty much evacuated who was involved here. My husband, who's also a volunteer member of the First Aid Squad, works as a community service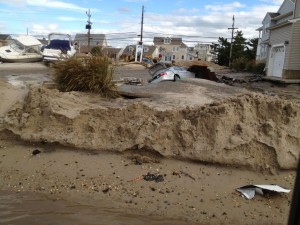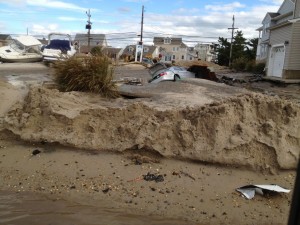 officer and EMT in Toms River Township. So, I stayed. I had conveyed that I was probably going to try to ride it out here, and the Emergency Management Coordinator was okay, he thought that was fine. We would work together on that and make sure it was safe. He came around in the late afternoon a few hours before the storm hit, and he kind of questioned me on staying here. I said, well, you know, unfortunately, from driving around trying to encourage people to evacuate, I had seen the people who were staying, and there were a lot of very elderly and disabled people. And those were the ones who were the most loathe to evacuate, so we had a lot of them, and we had a lot of people on this street who were not leaving, and I said, "what happens if things get really bad, who is going to help them in the storm?" And he thought about it for a minute and he said, "um, well if things get really bad, how are you going to get to them?" And I said, "oh, well that's a really good point." He went on around his little tour of the island and he headed back to his office and he called and said, "I just got the latest briefing package." He said, "leave. Leave right now."
I did. I took my little dog and the four-wheel drive hummer ambulance that we have, and evacuated. By the time I was ready to evacuate, the trucks were coming around, they could no longer pass through Ortley Beach. It was impassable. I had to go north to evacuate, and I actually evacuated over the Mantoloking Bridge, which is kind of funny considering how damaged that became shortly thereafter. I went over and stayed with a friend on the mainland.
After the storm, when did you come back?
We came back very quickly, because we're emergency personnel. We were able to come back when the public was not able to do so. The storm hit on Monday, late Sunday night into Monday, and we came back on Tuesday. The initial word was that everything was gone. We were just devastated. One of the police captains in Toms River Township is involved in Search and Rescue, and he literally made it down here on foot all the way through from Ortley Beach. They were trying to find people who needed help and immediate health and assistance. So he, on Tuesday, was able to come and the entire police department knew that we lived here and the situation we were in. He actually got back to our street and he radioed back that our house was there and that it looked relatively intact, so that was one of the many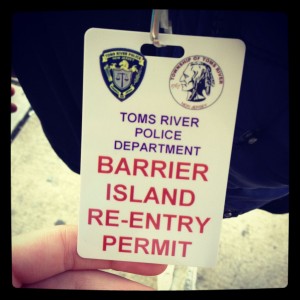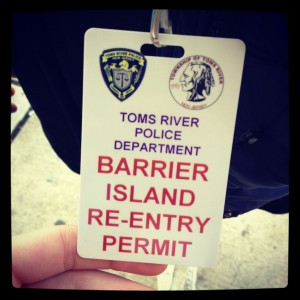 kindnesses that people did during that time period when people were very good to one another. And he did tell us that our house was there, which was a great relief that ultimately we would have some place to go back to. So we came back the day after the storm. There was no immediate access, but we were here as soon as we could. The National Guard was set up on [Route] 35 down here. The Mathis Bridge, which is the bridge that comes eastbound from Toms River over into the island, was completely closed. There was no traffic on that whatsoever. The police had Route 37 closed at the base of the bridge. You couldn't go any further. That was even before passes, only emergency vehicles could come across the Tunney Bridge. We went over the Tunney Bridge the wrong way, and through the area, and the only route of travel and it was very difficult, was the southbound Route 35. Northbound was impassable. There were houses sitting in the middle of the highway, so it was impassable, you had to come southbound, which was very surreal.
I was very valuable to the Search and Rescue people in the days after when we were trying to help get people off the island. I was a resource because I've lived here most of my life and know the island, know where everything is, know where all the streets. I was supposed to be helping them as a resource if they get a distress call or if somebody heard something, they would say a street name and we got people from the State Search and Rescue Task Force, and they had no idea where things were. So we tried to either give directions or feedback, but it was very surreal because you were coming up the wrong way on the highway, so the landmarks were completely different. Most of the landmarks were completely gone. There was sand everywhere and debris everywhere. You couldn't really figure out where you were. So I was limited in my helpfulness even though I was really, really familiar with the area because it looked so different, it really did.
How have you been involved in the response to Hurricane Sandy?
In evacuating people from the island in the days afterwards, which went on for several days where we were finding people and bringing them out. And it was really strange because there were no utilities here. There was no gas, no water, no electricity, so if you were here, you had no idea what was going on in the rest of the world because you couldn't see the news, you didn't really have much of anything. So we'd be sent somewhere where there would be people in the house, and they'd be like, "why do we have to leave? We got water, we're here, you know, why do we have to leave?" They didn't realize until we'd get them into the vehicle to get them out to the Command Post.
The Command Post was set up at the A&P, and that's where they brought the big military transport trucks to take people out. The road had collapsed in a lot of spots. People were very anxious to come back over here and they were very angry that they weren't being allowed to come here, but the infrastructure was so compromised and so damaged that it was very dangerous. Anyway, we would take people out in the vehicle to the Command Post and they would start freaking out when they got there, when they started to see other than just when they were in their house and they could see the house across the street and that was about it. And when they saw all the houses destroyed and the massive destruction, they'd start to get really upset and worked up, so by the time they got to the Command Post, they'd be very upset. We did a lot of that in the days afterward.
What kind of damage did this rescue squad building sustain?
We probably had about four and a half feet of water in here, and I lost my car here. Everything, the walls, everything had to be redone. The building had been recently remodeled, so, for example, the flooring had to just be cleaned and sanitized. The tile flooring that we have throughout the building, it all survived, it just needed to be cleaned really well. The two rooms back in there, there's an office and what was a squad room, was carpeted, so obviously we lost that. We lost almost all of our medical supplies, we lost all of our training equipment, we lost the furniture where people could stay here while they were on call, everything was gone. Amazing.
While this building was being repaired, were you still operating out of here?
Yes. Both of our ambulances got wet, so they ended up going over to be remediated and cleaned out. We were on a very, very limited basis operating out of this building. We really couldn't, for one thing, and because we're a first aid squad which means everyone has to live in the proximity, because if you're going to run an ambulance, it's time dependent. So everybody who's on the first aid squad and answered first aid calls was impacted by the storm and had to leave. None of us lived here. We weren't here, so we really couldn't respond to first aid calls here. And that was for quite a while until we could get the building back up and running. And of the [four] places: our home, the captain's home, my mother's home and this building, this was up and running first because the insurance company came in and got things going.
We did respond on Memorial Day Weekend in 2013. So that's how long it took before we could actually do anything out of the building. It was still kind of a shell, but we could do that.
How did you go about repairing this building?
The insurance company sent in a company to clean, and they started the process of cleaning. We went through tons of stuff with gloves and equipment on and we did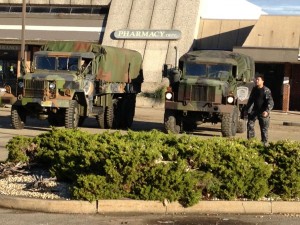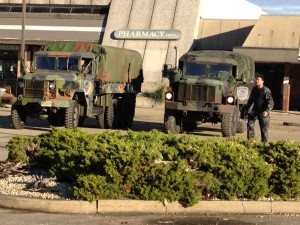 that soon after. After the initial rescues were over, we had time to devote to this, and just going through things all gloved up and covered and going through what had to be disposed of and what didn't. We lost records, medical records, paper work. There were things that were up, and they were up high. Nothing was on the ground level, but they were so high that everything got wet. And even the stuff that didn't get wet, it was so damp. Our run reports were like wet toilet paper. It was just awful. So it was a very time consuming process, but we started that, and we had some volunteer groups. A fire company came in from somewhere, and some workers came in. They helped us do the demolition, take down both the walls that had to be cut in half, and the dry wall that had to be removed. So we had help, and the Point Pleasant Borough First Aid Squad got a group together, and they came and helped us get muck out and clean out and throw out, and everything in the kitchens and everything just had to be thrown out. So it was just grunt work. But we did have some help from some wonderful volunteers.
How long did that process take to repair this entire building?
We had a trailer placed in the parking lot and everything that we could salvage kind of just got piled in there in boxes because we would take things, and just kind of put everything that could be salvaged in boxes and then just put it in the trailer. We tried to label the top of what it was, so it took months because you had to move fast and it was the winter months, so it was cold, there were no utilities, there was no water, no electricity, so it was cold. It was dark. You could only work during daylight hours. We were very limited in what we could do, and every time we were here working, of course with the doors open, people would stop and say, "oh, can we use the bathroom?" Bathroom doesn't work here either, there's no water. So there were definitely difficult conditions. And that we found, too, when we were in the immediate aftermath of the storm, when we were helping people get from here to the mainland to safety, the smell was unbelievable. Since the sewer systems were overwhelmed, it was not only a musty smell. You'd go into a house two days after the storm to help people get things out, what they could salvage, and the smell was awful. I don't know how people could stay there. It smelled terrible in here, so it was hard to work here. It was cold and damp and smelly and dirty and disgusting, and you had to do it in short shifts of time.
Compared to previous disasters, how was Hurricane Sandy different?
Oh, it was the big one. It was all the times when people felt like they cried wolf, this was definitely wolf. It definitely came to pass in spades. It was really our worst nightmare come true. When you look at the geography of the coast, we kind of bend in here, so we've always been a little sheltered from a lot of the storms. We tend to go right up the coastline and go right past us, and we kind of relied on that a little too heavily I think. So when this storm took a turn and turned directly for us, we were really surprised.
What do you think are lessons for the future that should be learned from Sandy?
That we have to do more to protect the coastal and back bay communities along the coastline. We have to have a better handle on making sure that people are safe, because that was the biggest issue that occurred here, is that we could not get people to leave. A tremendous number of people did not leave and then were panicked when they were here because apparently it was extremely frightening. I've had people say to me, "I've never been so scared in my life," and my response to them is, "what do you want from me? You didn't leave. What can I say? You were mandated to leave, it wasn't a voluntary thing, you were supposed to leave and you didn't and, yeah, you got scared." Well you know, that's what happens. So I think we need to take where we live much more seriously and understand the forces that can be at work here can really be tremendous and dangerous and destructive. And then, when the ocean breached into the bay, it overwhelmed the communities on the mainland on the other side, so it wasn't even just us, it was them, and they really hadn't encouraged them to evacuate as vehemently as they did the people on the beach community.
So a lot of people, I mean a lot of people, needed to be rescued from their homes. They were on their roofs, in their attics, they were in really dire straights. The two houses directly across the street from the first aid building, one is an elderly couple and one is a younger family, and neither of them evacuated, and when things got really bad, they went and they threw a rope between the houses, and that was the only way they could get back and forth after the surge was over. They were all up in their attics and they communicated to let each other know that they were safe, which was very neighborly, by flashlight. And for anybody in this day and age to be in that kind of danger and living that way is really something that we have tried very, very hard to not have happen here. We've been very conscious for many years of the weather, here and as a First Aid Squad, we've maintained a list of people who were infirm, elderly, unable to evacuate, disabled, that kind of thing, who might need help. And we reached out to those people. It was always my feeling that no one should be left behind, and we wanted to make sure that everyone was safe, and no matter what kind of material damage we had, at least we wanted to make sure that everyone was physically safe. And we really weren't able to do that. We were just lucky that there was not a great deal of death here. There was definitely potential for a lot of people to have died here. Had [the storm] hit with greater velocity winds, it would have been even more devastating than it was. So that's definitely a lesson that I took from it.
Interviewed by Shannon Yeager
Assisted by Meghan O'Brien
Edited by Shannon Yeager
Normandy Beach, New Jersey
Recorded April 1, 2015