Gina Carey-Smith
Gina Carey-Smith is a college professor who lives in Florence, New Jersey. For seventeen years, she has owned a small, 400 square foot bungalow in Seaside Park, two blocks from the ocean and four blocks from the bay. Hurricane Sandy wiped out the little beach home, causing so much damage that it needed to be leveled and rebuilt. However, since it was considered a 'second home,' and since Gina owned the house but not the land on which it sat, she was both unable to have flood insurance and could not get help from FEMA. Unable to afford reconstruction, she was forced to sell for a fraction of its value. In this narrative, Gina talks about how has dealt with losing a summer home that held 14 years of childhood memories for her kids.
What do you like about the community?
Seaside Park is a small community where everybody knows everybody. It's middle class people with a second home, small but mighty. People were very kind there and welcoming and it was close to my first home, it's about an hour away. So it was a good commute for my husband to go from his job back to Seaside everyday.
We became really good friends with the owner of Betty and Nick's Bait and Tackle Shop. We had a fishing business, "Black Magic Charters" so we would go in there a lot and they knew us by first name. Some nights we would drive down there on a Friday night in the winter just to have dinner there, just to catch up. You kind of get friendly with all of the local businesses and it's just a really nice community,
I miss it but it just took everything out of me to even want to go back down there. Now I don't even trust to buy anything down there. As much as I want to be down there, I'm really hesitant to make that commitment again. Especially when you lost everything. You know we got zero dollars. Nothing. We had insurance, but it was fire and theft, it wasn't flood so all of our content was gone and we got nothing.
Before Hurricane Sandy had your been affected by previous natural disasters?
A little bit of history about our homes: our homes were the fishing huts when there used to be a railway that went across the bay. Our little bungalows were the fishing huts for the guys, that's where they would sleep at night. So they were very low maintenance, it was almost like a little studio apartment.
Our homes were on cinderblocks. The hurricane before Sandy, Irene, we had about a half an inch to an inch before water was getting in the house and we were like, "wow this is bad we got really lucky." Never ever thinking that we would get a direct hit like we did. They stood there since the 1930's and 1940's. I mean, New Jersey has had a lot of hurricanes since that time. You would think that they would withstand the storm, but the bay never met the ocean the way it did in Sandy.
Did you know the storm was coming before it hit?
We knew it was coming. We went down to the house and we boarded but it didn't help. We had a little loft upstairs and that window was gone. It just busted through. But all these years these little huts have been standing and then this thing comes and just levels everything. The cinders came out, our sewer main completely cracked, the gas, everything was completely cracked. There was financially no way of us getting all of that replaced without help. No way.
Tell us about your experiences as the hurricane was taking place.
We were at our house in Florence and we had our neighbors tree, a huge oak tree, and it was looming right over our house. I'm thinking about that tree coming and hitting our house in Florence, and then I'm thinking about the Seaside house, trying to watch the news, and then on top of it we have a fishing business. It was stressful. We actually knew somebody that knew somebody who stayed down there and took video, and they actually ended up showing us our house. As soon as I saw it I looked at my husband and said "It's done…it's done."
We didn't have flood insurance. We were told that we couldn't get flood insurance because we didn't own the land. I don't know how much truth is behind that. Maybe I should have done a little more research on that.
Can you explain more about not owning the land?
Our house sat on this huge piece of property and there's about 60 bungalows. So we were actually paying for our plot of land. At the time, I think we were paying about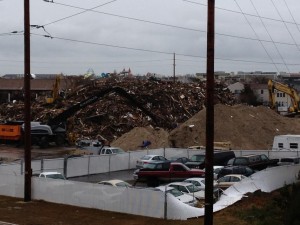 a land fee of $8,000 a year for a four hundred square foot bungalow. Small, but we didn't care about the size. It was more of being down there and having the opportunity to have a shower, an oven, a microwave, at any time.
A couple of my friends did end up rebuilding their bungalows. But for me personally, I couldn't do it without that financial help. I have a kid in school. I ended up selling it for only $9,000.00. I lost my butt on that big time. That house was actually going to be sold for my daughter's schooling at TCNJ. That was our game plan because we knew she was going to come here, regardless of any scholarship she didn't take, we knew she wanted to be a Lion. Our goal was always "Okay when she's getting ready to go we are going to sell it" and the house actually was up for sale when the storm hit.
We probably would have got about $90,000 to $100,000 for it. The hurricane came and so we couldn't sell because everybody was afraid to buy down there. If I didn't sell it for what I could, for $9,000.00, I would have had to pay the land fee again for $8,000.00. And for what? We didn't have the money to fix it at the time.
I ended up putting it on Craigslist for $30,000.00, butI saw the land fee was due soon and I was handcuffed. Some guy from North Jersey was like, "yeah, I'll give you $10,000," and I'm like "oh my god…$10,000?!" But I had to do it. He ended up giving us $9,000. He knew we were stuck.
In a way, I felt like I was taken advantage of, but, by the same token, we met at closing and he had a little girl and I thought to myself, "That little girl is going to have a great 14 years down there." We had 14 wonderful summers down there and it just wasn't meant to be, you know? So people say, "I can't believe you're so calm about it," and I say there's nothing you can do about it. It's sad. I want to eventually get back down there, but not in Seaside. I would probably go Long Beach Island because of the fishing end of it; it's closer to the inlet. But to take that chance right now? I just don't know if I would be ready to do that.
But I love Seaside. A lot of my friends are still down there, but I can't go down there. I won't go down there. I went down to Seaside Heights about a month ago, but I won't go down by the park. I don't want to see it. I don't want to go down there.
Can you explain what it was like the first time you saw your home?
I was angry. We saved up. I teach full time, my husband works two jobs, and we busted our butts. I sold my Toyota Camry to buy it, so I could afford the payment each month for it. We gave a lot up to do that, at a young age. It's almost like you go through the same stages of death. It's weird. Denial, anger, bargaining, depression, and then you just accept it. But I don't deny it I went right to anger.
You had said before that you would never trust to buy again; do you think that's the opinion of a lot of people?
I do, and it's not that I'm sour about it because I'm not. I just think that there's a lot of things to consider, like flood elevation. If you buy a house you may have to lift it, which is $30,000 to $40,000. There's a lot of unwritten rules and unwritten money that you don't realize before you go down there and buy. You could go down to Seaside Heights right now and buy a pretty busted up duplex for about $110,000, but is it going to have to be lifted? Where is it in the flood elevation zone? What is flood insurance going to cost you now? There's a lot you have to talk to a realtor about and just so many hidden costs out there now. I really do believe that.
It is, it's hard because if FEMA would have said to me, "Look we're giving all of the bungalows $10,000," I would have kept it. That money would have gotten me through. My husband and I would have done all of the work.
At one point we had heard they were going to level them all…just take them all down. They were going to buy us out. Which for me, I would've benefited from that. But they didn't do that.
They just left them?
They left them. I feel really neglected. I know I don't have a million dollar house, it was only 390 or 400 square foot house, but that was still a house to us. Fourteen years of insurance payments, of upkeep, $8,000.00 a year for land. We lost a lot for a middle class family. Every bungalow owner there lost a lot.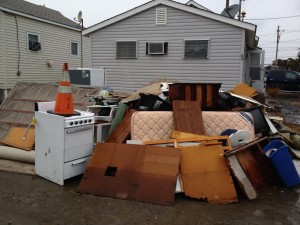 I felt like funds were definitely not evenly given out to the low guy on the totem pole. I just think that, you know, the governor should have stepped up for the little people. You know. Chris Christie could've said, "Hey FEMA, we're going to divide this money" I didn't own a 2 million dollar house, but for me, that was a 2 million dollars house. I just felt like their response of "it's a secondary home. So you don't get anything." doesn't make sense. All of my content was in there.
How has Hurricane Sandy shaped your opinion on community life?
I don't go down to Seaside anymore. I think I got a little bit of a bad taste being treated the way that we did. We didn't get any help. Where did this money go is what I want to know? All of this money that the government had…where did it go? You're telling me I have a second home and I don't get anything? That's what kind of ticked me off.
I will say that the Red Cross was very gracious. The Red Cross came around our little area and they stopped and they had hot dogs, they brought us brooms and mops and all kinds of stuff to help us. They were so gracious. We're little guys down at Island Beach. We don't own a million dollar home so people don't really give a shit about us, but the Red Cross did. They made a really good effort to come through.
What do you think are the lessons from the future that should be learned from Sandy?
I think everybody should be treated equally and I think that they really need to think about allocating the funds, not just to people that lost million dollar homes, but to everybody. If you're going to allocate funds, you need to check out the whole island. We weren't even offered a loan. Could I have gotten a loan? Absolutely. But, we weren't offered anything and I filled out that paperwork to the "T." I did it the day I got it. I filled it out and sent it out right away because I'm thinking "Boy, if I don't do it now, the funds may not be there." So I did it right away and when I got that package back, I was so disappointed. Our worst-case scenario was we were going to get a bulldozer and a dump truck and my husband and I were going to pull the house down ourselves. Because we just couldn't pay the land fee. You either pay the land fee, you sell it, or you bulldoze it down yourself. Those were our options.
How did it make you feel knowing that you lived in that house for 14 years and that those were your only options?
It makes you really mad because I'm a person of loyalty. I believe in being loyal. When I bought the bungalow I was paying $2,000.00 a year in the land fee. When Sandy came I was paying almost $8,000.00 a year. Nothing changed. If they even would have said "Hey this year we are not going to make you guys pay the land fee." or "We're going to make you pay $3,000.00 instead of $8,000.00" that would have really helped people but some people are just greedy. I just think that they see dollar signs and they don't think about the repercussions of things. I know you need money, but at the same token, you need good people around you too. The loyalty is a big thing. We were down 14 summers, we always paid our bills, we never caused trouble, and my kids were very well behaved. Loyalty is important.
Interviewed by Jennifer Pagliaro
Assisted by Caileen Fitzpatrick
Edited by Jennifer Pagliaro
Ewing, New Jersey
Recorded April 22, 2015
Photographs by Gina Carey-Smith