Krista Sperber
Krista Sperber is a graphic designer who lives with her family in Belmar, New Jersey. As a result of Hurricane Sandy, her home was submerged in salt water for seven days. Unfortunately that was just the start of their difficulties. For the past two years, Krista and her family have been struggling to receive any sort of compensation from insurance. Fortunately for them, the community has responded with generous support, and with the help of the Home for Summer program and the Saint Bernard project they are rebuilding their home. She is now working with the New Jersey Organizing Project, a network of people working to ensure that Sandy victims have a full and fair recovery.
Why did you choose to move here?
We grew up in northern California. My father had a job at General Motors, which is why we ended up in Michigan. Nobody wants to live in Michigan, so we would go back and forth between northern California and Michigan. I never really thought I'd live in California. It's dry, it's always on fire, earthquakes. Was never a big fan, wasn't going to live in the Midwest either. Not for a second. I lived over in Spain for awhile and you know I've done like Peace Corps type stuff not with Peace Corps. I thought I'd probably just go to Europe after school. But I ended up getting a job in the city, moved to New York, lived there for a while, and then found the shore. I fell in love in a way that I was never in love with California. We are four or five blocks from the ocean and four or five blocks in from the bay.
What makes Belmar most home to you?
It's a small town. You know everybody. So after 14 years, it's kind of this small pond, with a bunch of really cool people who are not trying to be Spring Lake, they are not trying to be Avon, everyone is just here to chill. It's amazing.
In the days before Sandy how did you prepare?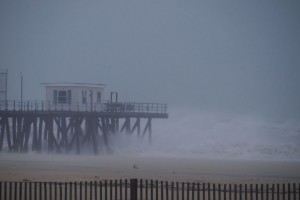 Not a lot. Cause we really didn't think it would be that big of a deal. We'd done Irene. My husband was an Eagle Scouts of Mormon-raising, so a true Boy Scout. He insisted on getting everything out. He was getting out his waders and I was like, waders are you kidding me? We've seen waters come to the steps of our house before just off of Silver Lake. It just floods sometimes, it happens. He gets out his waders; he got the kayak out, and was lashing it to the porch. I was like seriously, kayak? Come on, really? He did everything. I thought it would be a little bit more than Irene. For Irene I had taken the kids out and then I was bummed because I had missed a good storm. I love a good storm. I wanted to be at home, I wanted to see, I want to be there.
So, this time I took the kids out to their father who lives in Neptune and my husband and I stayed for the storm. We went to the neighbor's house in the evening; the last 6 or 8 people left on the block got together and had a hurricane party. We were there that night, and it never rained. So, we thought we were cool, we're not going to flood. My husband goes next door to get pictures and comes running back in the door yelling " The waters coming, the waters coming!" We all go on the porch and there's this wave coming down the street. It was dark out, you could see this white line and then this black was moving up the street, and this wave was coming, and it kept coming.
Can you tell us about what happened?
There was water coming, and it kept coming. Prior to this week, we had gotten this message from the mayor that said, "You got to prepare for unprecedented flooding." So we were like, okay, what's unprecedented? We've seen it come to the steps. Multiply that by four, second step? The water kept coming, and didn't stop, and then it got to the top step.
What happened the next morning?
The house was underwater. As far as I could see the whole thing was water! We thought there was high tide, and when the tide went out, the water would go out. It did not.
How did your husband respond to the flooding?
He was in his kayak for about 12 hours helping people out. He was ferrying people out, carrying animals, taking people back in to get their animals.
How was the town the day after the storm?
We thought the whole town was underwater. We really didn't have any idea. When I finally got out it was probably day three. The water is completely glassy. It's doorstep to doorstep, the whole way there's nothing in between, it's not moving. That's when I was like, I'm going to crack. I got to get out of water world.
What damage did your house sustain?
The storm surge came in and didn't leave the house. It was submerged for seven days in salt water. The salt basically just ate the foundation. It's crumbling, falling apart. We lost the house, and much of our possessions as well. Handmade decorations the kids had done. The stuff in the basement.
St. Patrick's was always a big day for us because of Belmar. We have the parades, and buckets of decorations, there were hats and boas. We lost all that too.
How have you gone about the process of rebuilding?
I've gone about that process by hounding anyone who will listen to me because our insurance company didn't pay.
What has happened with insurance?
Fucks knows. You think anyone's got answers yet? We filed a lawsuit against them in federal court. We have writing to congressman, written to senators. I haven't let it go because there's no reason to. We were well insured. It should've been no problem. I've been calling it fraud sense we got our first report.
What are your views on the federal government's response?
We got relocation assistance from FEMA, and they could not have been nicer, or more helpful, or more generous. There was even a point where we got a check and the mail and they were just like "oh we just feel that we had underpaid you, here's more money."
What are some of the things Belmar has done to help get your family home?
Home by Summer. We had a big party up at the fishing club. Danny White played. He packed the house. Bobby Burns did a sing along over at the elementary school,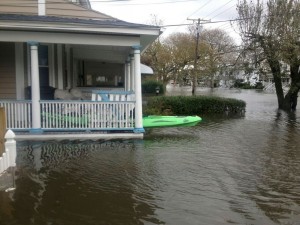 100 years of Broadway, true show man. Matt [The Mayor of Belmar] helped arrange for the St. Bernard project to help us get our home rebuilt. We're on this ticking clock. If we don't get home by June we will have to move again. That'll be number six. Five houses we've lived in since Sandy. We can't do a sixth one.
How did moving around affect your family?
Last summer was tough because I wanted to keep the kids in town. They've lived there their whole lives. They are in the junior lifeguard program. They surf, they skate, and it's always been right there at the end of the street for them. They have all these summer friends who come to town. They've played like this their whole life, and there was not a chance in hell I was going to take them out. So I worked really hard. We were able to get the SHRAP financing, which is another rental assistance program, and we got another summer rental. That was a tough one though. Everybody was a little nervous that we would be leaving town.
How are your kids handling the aftermath of the storm?
They're frustrated sometimes, and annoyed sometimes. For the most part they've handled it pretty well, but I think from the beginning I've told them that for as much shit that has gone wrong, the insurance is bad, they've had to move around. You know it's some pretty fancy white people problems because in that whole time, I've taken private hot showers, no one has cholera, we're not in refugee camps. So I don't know. We're okay.
How did the children's school handle the storm?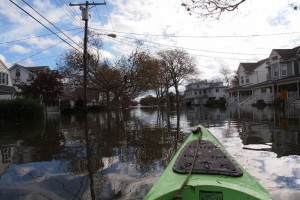 The school was really good. Lisa Hannah is amazing. She is the principal of the school. I can't even explain it. She's just from another planet. She's bilingual, which is just an amazing quality to have in this town, and she went out to all of the house where she knew she had students, particularly lower income students. She went and made sure everybody had everything. She delivered them blankets, she had milk for the babies, and she gave everything. To have a principal who was doing that, I think that was really above and beyond, heroic. She worked tirelessly for them. I think the kids were out of school for three weeks, and as soon as she could, she got open, she started serving breakfast, lunch, whoever needed a meal could go in and get it. She definitely had the best interest for those kids, made sure nobody was forgotten.
What have been the biggest challenges of rebuilding?
Getting the insurance company to pay for it. What we need is $250,000 from our flood insurance company. What we're getting is assistance from the St. Bernard foundation and Home by Summer to help us rebuild. Ideally, we get something back from our flood insurance. We pay back St. Bernard; we pay forward Home by Summer.
If you could go back to the storm is there anything you would've done differently?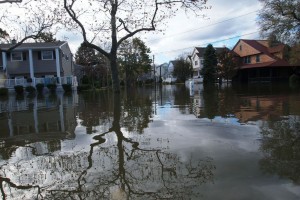 Have a different insurance carrier. I wouldn't change anything else. We had so many people ask us why don't you move? Why don't you just give up and walk away. Where does a family of four surfers go? We're not going to get much closer to the beach and certainly not leaving it. You wouldn't even consider it. I think it's really unreasonable to think that you're going to live this close to this major body of water and it never impacts your life. That's nonsense. Of course something is going to happen! This is going to happen! But the idea is if you have your safety nets in place, they work. We can have another storm again, but we can't leave people high and dry. We can't have people, like me, spending our savings, our kids college funds, because our insurance company just doesn't care to pay. The president gets the million-dollar bonus. Whatever they are giving these days is completely criminal, truthfully. For reasons like that I'm actually working with an organization, the New Jersey Organizing Project. We're going to Washington next month in hopes of talking to congressman and senators and changing things.
What is the New Jersey Organizing Project?
New Jersey Organizing Project is starting out by wanting to call attention the RREM program and specifically the failures, the lack of transparency, and where the money is going. If we have 14,000 applicants, how come we only have 300 houses built at this point from RREM? That's a disaster in itself. In two and a half years that's the best you can do? If you have this $8 billion why isn't it handed out yet? There were a lot of issues in the RREM program specifically that started the NJOP. Ideally in the future there will be other issues that they also tackle.
Where are you at with rebuilding your home?
Right now we have this amazing company coming and donating the house lifting. This local contractor in town is building the foundation and St. Bernard is supervising
the entire rebuild.
What do you hope to see happen in the next five years?
I would like to have everything I had back before the storm. Financially, the house, I'd like to have my life back.

Interviewed by Megan Moast
Assisted by Stephanie Pappas
Edited by Megan Moast
Belmar, New Jersey
Recorded April 7, 2015